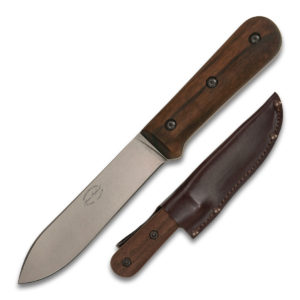 Olean, NY – The highly anticipated KA-BAR Becker Kephart is now available. This faithful historical recreation designed by Ethan Becker is based on one of only two known Horace Kephart knives in existence. One lives in a museum. The other is owned by Ethan Becker.
Featuring a 5.25" 1095 CroVan drop point,  the KA-BAR Kephart does not have a recurved edge. Becker explains that the museum Kephart has a recurved blade because it was extensively sharpened. The Kephart, this knife was based on was in excellent condition and was at most lightly sharpened.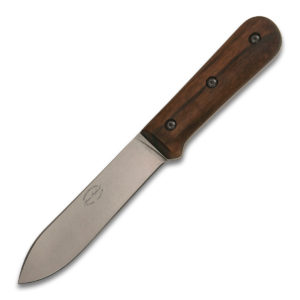 The tapered full tang, just like the original, increases both the balance and makes the knife easy to index. Additionally, it's been hardened to 56-58 HRC which allows sufficient blade strength without making it too brittle for actual use.
The walnut handles swell at the neck to form a slight guard. They're generally thinner and flatter than you'd expect with a square handle. Becker explains that he feels this makes it a much more comfortable grip and virtually eliminates hotspots. It comes with a leather sheath with a belt loop attachment that has an almost Scandinavian appearance.
KA-BAR Becker Kephart Details
1095 CroVan
5.25" Drop Point
Flat Grind
Tapered Full Tang
0.158" Thick
56-58 HRC
Walnut Handles
6.4 Ounces
Leather Sheath with Belt Loop Attachment
9.688" Overall
Made in the USA
The KA-BAR Becker Kephart BK62 would make a fabulous addition to any knife collection. It's a great knife and faithful reproduction of an original Kephart designed by the incredible Ethan Becker. To get this knife, click any link in the article or simply click the button below.


All images courtesy of Smoky Mountain Knife Works – smkw.com.