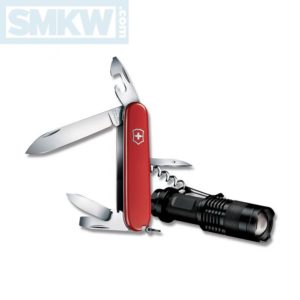 If you're looking for a great stocking stuffer or just a great small Christmas gift, look no further than this Victorinox Swiss Army Spartan and Flashlight Combo. It's a classic Christmas gift with a nice little bonus thrown in for good measure, and here's the thing. You get both for under $25.
Everyone loves a Swiss Army knife. We've all had one, and the Victorinox Swiss Army Spartan fits that bill perfectly. It's the classic red SAK we all know and love and features a large spear point blade and a small pen blade, as well as canopener/small screw driver blade, a cap lifter/large screw driver blade with a wire stripper, a cork screw, a reamer/punch/sewing awl blade, tweezers, toothpick, and a key ring. It packs all that in a 4″ handle that weighs only 2.1 ounces.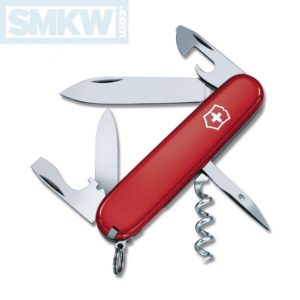 And, if that wasn't enough. This combo includes a modern, LED flashlight. It features an aluminum construction with a rubber on/off switch with 3 setting, 80 lumens with a 165 foot range and a 120 minute work time. At 3 3/4″ this little flashlight slips easily into a pack or a pocket.
Victorinox Swiss Army Spartan and Flashlight Combo Details
Composition handle
Large and small blades
Corkscrew
Can opener/small screwdriver
Bottle opener/large screwdriver/wire stripper
Reamer/Punch/Sewing Awl
Toothpick
Tweezers
Key ring
4″ closed
Made in Switzerland
Flashlight features:
Aluminum construction with rubber on/off switch
3 settings: Full light, Half-power light and Blinking strobe
80 lumens
165 ft range
120 minuet work time
Clip
AA batteries included
3-3/4″ overall
So, if you're looking for a great Christmas gift, get this Victorinox Swiss Army Spartan and Flashlight Combo. At just under $25, you're gettting a lot of bang for your buck. And, you're sure to get plenty of smiles this Christmas. Get it by clicking any link in this article or the button below.


Images courtesy of Smoky Mountain Knife Works – smkw.com.