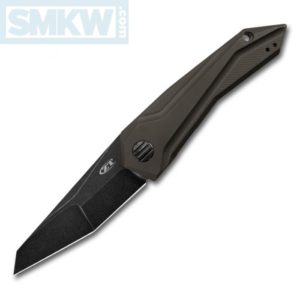 Tualatin, Oregon – Zero Tolerance announces the release of a sprint run of the 0055. The ZT 0055BRZ has an upgraded CPM 20V steel, a blackwashed blade, and titanium handles in a deep bronze color. The 0055 was based on the Airborne folder from Gus T. Cecchini of GTC Knives. Both the blade and the handles have some seriously interesting, aerodynamic lines.
Not only is the overall look of the ZT 0055BRZ unique, it is distinctive for it's opening method.  Zero Tolerance tells us, "The 0055BRZ features Gus' SLT hidden flipper tab. While the knife is closed, the flipper is concealed. When you're ready to open it, pull back on the SLT. A spring flips the tab up into position. Then just pull back on the tab and the 0055BRZ opens just like any other ZT. The hidden SLT ensures there's no flipper tab poking up along the spine or beneath the handle to interrupt the sleek lines of the 0055BRZ. The 0055BRZ's blade glides out of the handle on ZT's KVT ball-bearing system, ready for use. The action is similar to a two-stage rifle trigger and is completely [addictive.]"
Once open, lock up is secure with a titanium frame lock with a hardened steel lockbar insert. Finally, this knife comes with a titanium reversible tip-up pocketclip and lanyard hole.
ZT 0055BRZ Sprint Run Details
CPM 20CV, BlackWash Finish
3.75" Tanto
Anodized Titanium Handle
Hidden Flipper with KVT Ball-Bearing Pivot System
SLT Spring-Loaded Tab
Titanium Frame Lock with Hardened Steel Lockbar Insert
Reversible Tip-Up Titanium Pocketclip
Lanyard Hole
5" Closed
8.75" Overall
5 Ounces
Made in the USA
The ZT 0055BRZ Sprint Run is in limited supply so make sure you get yours before they're gone. To get this knife, click any link in the article or simply click the button below.


All images courtesy of Smoky Mountain Knife Works – smkw.com.