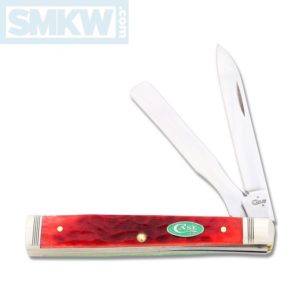 Each year, Case releases a Magicians Knife. This year, they chose the Doctor's Knife pattern. Internet legend has it that the 2018 Case Magicians Doctors Knife has its origins in dealer knife rolls. It's more cost efficient to produce one knife with two different scales than to make two knives. They say the sales reps back in the day could deftly switch the knife around to make it look like they were showing you two different knives when, in fact, it was just one.
Whatever the origin, the 2018 Case Magicians Doctors Knife is a fantastic gift for any knife collector. This year's iteration features red jigged bone handles on one side, while the other side has green jigged bone.
One of the greatest things about this is that the Doctors knife is only going to be available during 2018, then it goes back into the Case vault. Produced in limited quantities, the Magicians Doctor's Knife very well might be one of those knives that grows in value over the years.
A Red Case Sparkxx shield accenting the Green Jigged Bone side. A Green Case Sparkxx shield accents the Red Jigged Bone side. It also has triple lined and squared nickel silver bolsters.  The 3.125" spear point and paddle blades are Case Tru-Sharp Surgical steel. Finally, this knife comes in a collectible tin.
2018 Case Magicians Knife Details
Tru-Sharp Surgical Steel, Mirror Polished
3.125" Spear Point and Paddle Blades
Red and Green Jigged Bone Handles
Brass Pins and Liners
Nickel Silver Bolsters
Case Sparkxx Shield
Nail Nick
Collector Tin
3.75" Closed
6.875" Overall
Made in the USA
The 2018 Case Magicians Doctors Knife makes a great gift for the knife lover in your life. Make sure you get yours before they're gone. If you're interested in this knife, click any link in the article or simply click the button below.


All images courtesy of Smoky Mountain Knife Works – smkw.com.