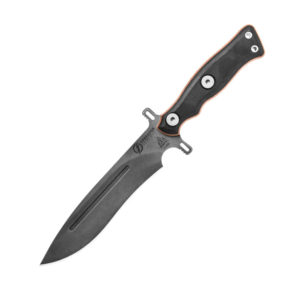 At Knife Newsroom, we have articles out every single day of the year. That's a minimum of 365 knives we've written about, and you – the viewer – read about. In reverse order from least to most read, here are the 2018 Top 5 Knives based on how many times you all read the article.
Number 5 on the 2018 Top 5 List is the TOPS Operator 7.  Designed by Leo Espinoza, the TOPS Operator 7 is a gigantic beast of a knife. The 1075 carbon steel blade is 7.25" long and almost 1/3" thick. It has a recurved drop point with an acid rain finish. Contoured for comfort, the tan canvas micarta and black G-10 handles are incredibly durable and have a great feel in the hand. Finally, it comes with a black Kydex Sheath with a dangler attachment.
TOPS Operator 7 Details
1075 Carbon Steel, Acid Rain Finish
7.25" Recurved Drop Point
0.31" Thickness
Tan Canvas Micarta/Black G-10
Black Kydex Sheath, Dangle Attachment
24.5 Ounces
12.5" Overall
Made in the USA


Unsurprisingly, the fourth most read article is the Zero Tolerance 0609, Martin Folder. ZT makes a great knife and the 0609 is no exception. The KVT bearings make opening the dual finished, 3.4" CPM 20CV blade darned near addictive. Both the standard anodized bronze titanium handled and the blue handled sprint run versions of this knife have just a touch of bling and the See-Through-Pivot is a great touch. It also has a reversible, tip up pocket clip.
ZT 0609 Martin Folder Details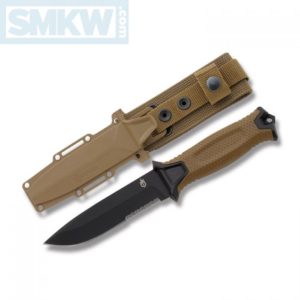 Coming in third is the affordable, comfortable, and versatile Gerber StrongArm Fixed Blade. Full tang constructed and with a 90-degree spine, the Gerber StrongArm features a black coated 5" 420 HC drop point with either a partial serration or a plain edge. The glass-reinforced nylon handle with a rubberized overmold has a diamond pattern to increase slip resistance. These knives are available in either black or coyote tan. Finally, they come with a Kydex and Nylon multi-mount sheath system for an incredibly versatile carry.
Gerber StrongArm Details
420 HC, Black Ceramic Coated
4.8" Drop Point, Partially Serrated
Full Tang, 90-Degree Spine
GFN with Rubberized Overmold Handle
Striking Pommel
Kydex and Nylon Sheath System
7.2 Ounces
9.8" Overall
Made in the USA

There's no denying the Benchmade Osborne Design 940DLC-1802 is one of the most beloved knives of 2018. It's no surprise then that this is the second most read article of 2018. With its red resin infused carbon fiber handle and the anodized red thumb stud, this knife has a distinctive look that stands out from the ordinary Benchmade lineup. Further, it was one of the firsts to sport the new contours that gives it an extra bit of comfort in your hand.  The M390 reverse tanto opens with thumb studs or the AXIS lock. It also has gray PVD coated barrel spacers and a reversible, tip-up, deep carry pocket clip.
Benchmade Osborne Design 940DLC-1802 Details
M390 Steel, Black DLC Coated
3.4" Reverse Tanto
Red Resin Infused Carbon Fiber Handles
Red Anodized Thumb Studs
AXIS Lock System
Gray PVD Barrell Spacers
Reversible, Tip-Up, Deep Carry Pocketclip
2.9 Ounces
4.47" Closed
7.87" Overall
Made in the USA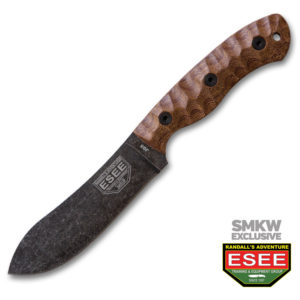 It shouldn't be a surprise to anyone that the 2018 top read knife article is about the ESEE JG5. No knife this year has generated more buzz in more areas than this knife. That's because it's an all around excellent knife. It's the perfect size and weight. It has an outstanding overall look and an almost unsurpassed utility. And, of course, it is a USA made knife from one of the top brands of the year. Smoky Mountain Knife Works tells us that they have a hard time keeping it on the shelves.
Inspired by the knife carried by legendary outdoorsman and author George Washington Sears (aka Nessmuck) and designed by James Gibson, the ESEE JG5 is a light weight knife with a great hand feel. Contoured for comfort, the carved micarta handles are both durable and slip resistant. The 1095 carbon steel blade is just under 5" long and has a tumbled finish. The long slicing edge makes it a great skinner or general utility knife.
ESEE JG5 Details
1095 Carbon Steel, Tumbled Black Oxide Finish
4.875" Drop Point
0.125" Blade Thickness
Carved Micarta Handles
Stitched Leather Pouch Sheath with Belt Loop Attachment
5.3 Ounces
9.625" Overall
Made in the USA

There you have it. The 2018 Top 5 most read knife articles. Stick around for the 2019 Top Knives, it's sure to be another great year.  If you're interested in any of these knives, click any link in the article or simply click the button below.


All images courtesy of Smoky Mountain Knife Works – smkw.com.