A flipper, a slippie, and a multitool or toy is the standard pocket dump fare. So standard is this set up, it's almost an internet rule: You must have a traditional slipjoint folder in your pocket dump.  Here are our three favorite 2018 slipjoint folders.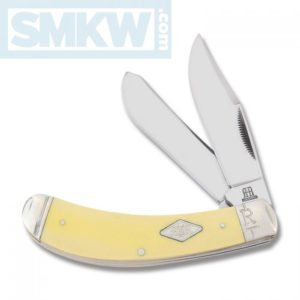 It's no secret that a Rough Ryder slipjoint is literally one of the best pocketknives you can buy for the price.  For functionality, durability, and an outstanding price point the Rough Rider Classic Carbon Bow Trapper is our absolute favorite slip joint pocketknife. The 3.125" T10 carbon steel clip point and spey blades age beautifully with just the tiniest bit of care – in case you've never heard, T10 is the equivalent of 1095 carbon steel.
The mirror polish on this knife far superior to many other brands on the market.  Although it's easy to sharpen, they come razor sharp straight out of the box. It makes an outstanding last-ditch knife for meal prep or for almost any other task for which you'd use a small knife. It also serves as a fair to middlin' whittlin' knife.
The yellow composition handles are highly visible under almost any conditions and always adds a touch color to a pocket dump, but that's not what made us choose the Bow Trapper as one of our three favorite 2018 slipjoints. It's the feel of it. Because of the arched or "bowed" nature of this pattern, it's as comfortable to use as just about any folder. For a traditional slipjoint, it's a quite easy two-handed open. You can get this knife for about $13.
Rough Ryder Classic Carbon Bow Trapper
T10 Carbon Steel, Mirror Polish
3.125" Clip and Spey Blades
Half Stops
Yellow Composition Handles
Match Strike Pulls
Nickel Silver Pins and Slant 'R Bolsters
Brass Pins and Liners
4.125" Closed
7.25" Overall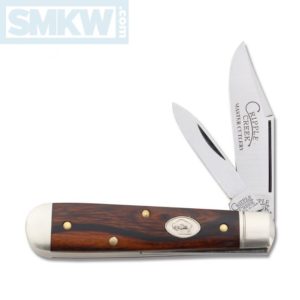 Right smack in the middle of the top 3 is the Great Eastern Cutlery Cripple Creek with Desert Ironwood handles. You don't often see that classic wood handle on a pocketknife, and we just love it. Additionally, the 2.375" 1095 carbon steel clip point and smaller pen blade age gracefully and add further character to the knife. Best of all, this knife is small enough that it's a remarkably easy carry. You can get this knife for about $130.
GEC 14 Cripple Creek Desert Ironwood
1095 Carbon Steel, Satin Finish
2.375" Clip Point and Smaller Pen Blade
Brass Pins and Liners
Nickel Silver Bolsters and Shield
3" Closed
5.375" Overall
Made in the USA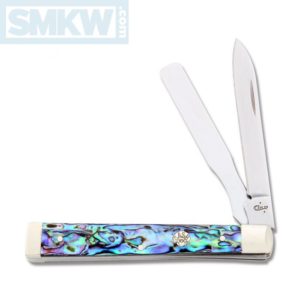 One of the top reasons to pick a traditional folder for your pocket dump is because it's pretty. There's most likely no prettier knife than the Case Paua Abalone Doctor's Knife.  It's not cheap, but with the widely varied iridescent handles, it is beautiful. Additionally, this limited-to-250 run of a limited-to-2018 pattern is almost certain to be a collector's item.
Mounted on a nickel silver frame, the shimmering natural paua abalone (shell) handles have all the colors of the rainbow. This knife also has a perfect mirror polish over, well, everything. The 3.125" spear point blade and paddle open with a nail nick and that opening is everything you expect from a Case Knife. The bottom bolster is squared and the top bolster is slightly pinched. Finally, this knife has one last uncommon touch: a nickel silver Case Shell shield. You can get this knife for about $220.
Case Paua Abalone Doctor's Knife Details
Tru-Sharp Surgical Steel, Mirror Polished
3.125" Spear Point Blade and Paddle
Paua Abalone Handles
Nickel Silver Pins, Bolsters, and Liners
Case Shell Shield
Slipjoint
Nail Nick
3.75" Closed
6.87" Overall
Made in the USA

Our three favorite 2018 slipjoint folders make for a truly sensational pocket dump. If you're interested in these knives, click any link in the article or simply click the button below.


All images courtesy of Smoky Mountain Knife Works – smkw.com.