Sometimes you just want a good, reasonably priced knife. Here are four modern folders you can get for under $40.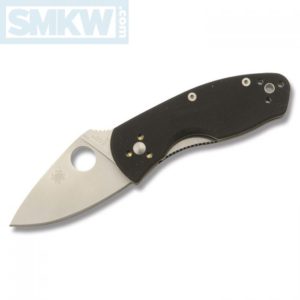 The Spyderco Ambitious is a small, ambidextrous modern folder with a four-position pocket clip and Spyderco's trademarked Round Hole. The 2.25" drop point has a thumb ridge so you can comfortably and easily change your grip. The G-10 handles are textured for slip resistance. Spyderco tells us, "Feature-for-feature, dollar-for-dollar, performance-for performance, Spyderco Value Folders represent a best buy in the knife industry and the answer to acquiring Spyderco innovation and quality on a budget."
Spyderco Ambitious Linerlock Details
8Cr13MoV, Satin Finish
2.25" Drop Point
G-10 Handles
Linerlock
Fully Reversible Pocket Clip
3.563" Closed
6" Overall

The Black Fox line of knives from Fox Knives has an excellent price to performance ratio. The Black Fox Tactical 705B is a reasonably priced knife with a 3.625" black coated 440 clip point blade. The G-10 handles are contoured for a comfortable grip. It opens with thumbstuds and locks with a liner lock.
Black Fox Tactical 705B Details
440 Stainless Steel, Black Coated
3.625" Clip Point
G-10 Handles
Thumbstuds
Tip-Down Pocket Cip
5.25" Closed
8.938" Overall
Made in Italy

Designed by Jasper Voxnaes, the CRKT Vizzle is a minimalist design with just a hint of puukko hiding in its slim, sleek lines. The 3" clip point swiftly opens with IKBS ball bearings. Once open, it securely locks with a framelock. CRKT tells us the "stonewashed [stainless steel] handle is punctuated with a radar-looking circular pocket for both aesthetics and to help your grip.
CRKT Vizzle Details
8Cr13MoV, Stonewash Finish
3.313" Clip Point
Hollow Grind
Stainless Steel Handle
Flipper with IKBS Ball Bearing Pivot
Framelock
Tip-Up Pocket Clip
Lanyard Hole
4.625" Closed
8" Overall

The Cold Steel Bush Ranger Lite is a budget version of their Bush Ranger. It has the same 3.5" Sheffield clip point that's made from 8Cr13MoV instead of S35Vn. Contoured for comfort, the GFN handles host an ambidextrous, tip-up pocket clip. The blade opens with thumb studs and stays locked with Cold Steel's notoriously sturdy back lock. It also has a secondary Rocker Lock for additional security.
Cold Steel Bush Ranger Lite
8Cr13MoV, Satin Finish
3.5" Sheffield Clip Point
Thumb Studs
GFN Handles
Lock Back
Secondary Rocker Lock
Ambidextrous Tip-Up Pocket Clip
4.8 Ounces
4.875" Closed
8.375" Overall

Whether you're a knife collector or a knife user, these four modern folders are all good knives you can get for less than $40.  If you're interested in these knives, click any link in the article or simply click the button below.


All images courtesy of Smoky Mountain Knife Works – smkw.com.