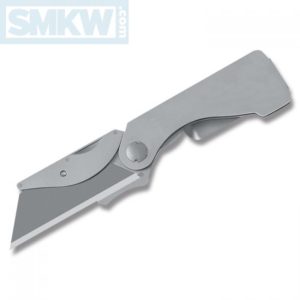 Just in case you've not heard of the Gerber EAB (Exchange-a-Blade) over the several years it's been out, it's a must have utility knife that belongs in every house. It's slim and lightweight with a great lock up. It's pretty much perfect for anything you'd use a utility knife for, you can get it for about $12, and it's an easily carried pocketknife.
It has a tip-up pocket clip that doubles as a money clip. At a mere 2 ounces and with a closed length of about 3", this folding utility knife is small and light-weight enough to comfortably carry in your pocket.
It comes with a K5 contractor grade high carbon utility blade. Once the included blade gets dull, it's easy to change it with either a standard or contractor grade utility blade. The utility blade locks in the open position with a liner lock.
Gerber EAB Details
K5 Contractor Grade Utility Blade Included
1.7" Blade Length
Liner Lock
Stainless Steel Handle
Tip-Down Pocket Clip
2.38 Ounces
3" Closed
5.1" Overall
With the affordable Gerber EAB, you can feel free to abuse your daily carrying knife in a most horrific way without worrying you'll ruin the blade. If you're interested in this knife, click any link in the article or simply click the button below.


All images courtesy of Smoky Mountain Knife Works – smkw.com.