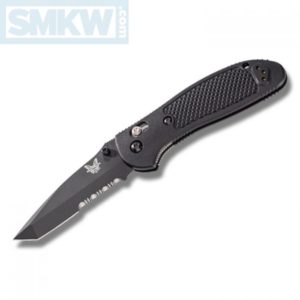 There's a huge blowout sale going on at SMKW.com on Benchmades. They're calling it the Mother of All Benchmade (MOAB) Sale. There are deep discounts, free shipping, and it's all been swaged out. At last count there were more than 30 discounted models under $100. This includes but is not limited to a gazillion Griptilians, a Freek, a Precinct, and an Osborne designed Jungle Machete.
Designed by Mel Pardue, the Benchmade Griptilian is the model with the more options than any other Benchmade line. The action on this pocket-sized knife is fast and smooth. They're slip resistant and have a great hand feel. There are models available with a tanto tip, a drop point, or a sheepsfoot blade made from 154CM, CPM-20V, or N680 stainless steel. There are partially serrated models and plain edge ones that open via thumb hole, thumb studs, or AXIS Lock. The choice is yours.
All Griptilian models have an AXIS lock and a reversible, tip-up pocketclip.  The handles are G-10 or Nylon and available in a variety of colors. The prices for these knives during the MOAB sale start at about $77 and go up to about $150.
Benchmade Griptilian Details
154CM, CPM-20V, or N680 Stainless Steels
Partially Serrated or Plain Edge
Black Coated or Satin Finished
3" to 3.5" Tanto, Drop Point, or Sheepsfoot
AXIS Lock
Thumb Studs or Thumb Hole
Ambidextrous Tip-Up Pocket Clip
Made in the USA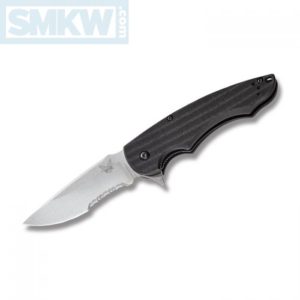 Benchmade collaborated with maker/designer Butch Ball for the 320S Precinct. At less than 4.5" closed and weighing about 3 ounces, this compact knife makes a great every day carry. The 3.25" 154CM drop point has an incredibly useful partially serrated blade. Between the significant amount of jimping on the spine and the textured G-10 handles, there's a tremendous amount of slip resistance. The flipper opening is lightning fast with thrust bearings. Once open, the liner lock secures the blade in the open position. Finally, it has an ambidextrous, tip-up pocketclip.  You can get this knife for just under $100.
Benchmade 320S Precinct Details
154CM, Satin Finished
3.3" Drop Point
G-10 Handles
Flipper
Liner Lock
Ambidextrous Tip-Up Pocket Clip
Lanyard Hole
4.48" Closed
7.78" Overall
Made in the USA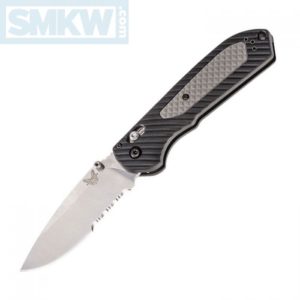 The 560S Freek has a grey Grivory handle with a Versaflex overmold for outstanding slip resistance and exceptional comfort. The 3.6" S30V drop point is partially serrated and has a satin finish. It opens with thumb studs or with the AXIS Lock. It also has a lanyard hole and an ambidextrous, tip-up pocket clip. With the MOAB sale pricing, you can get this fantastic knife for about $90.
Benchmade Freek Details
CPM-S30V, Satin Finish
3.6" Drop Point, Partially Serrated
Grivory with Versaflex Overmold
Thumb Studs
AXIS Lock
Lanyard Hole
Ambidextrous, Tip-Up Pocket Clip
4.9" Closed
8.4" Overall
Made in the USA

The Warren Osborne designed Jungle Machete is a great knife with a comfortable and highly visible orange Santoprene grip. This 9" 1095 clip point features a full tang construction and has a black coating to help increase corrosion resistance. It comes with a leather sheath with a belt loop attachment. You can get this knife for about $90.
Benchmade Jungle Machete
1095 Carbon Steel, Black Coated
9" Clip Point
Full Tang
Orange Santoprene Handle
Lanyard Hole
13.875" Overall
Leather Sheath with Belt Loop Attachment
Made in the USA

With over 30 knives priced at less than $100, and almost 60 knives with deep discounts, there's no better time to check out a Benchmade than during the MOAB sale at SMKW. If you're interested in these knives, click any link in the article or simply click the button below.


All images courtesy of Smoky Mountain Knife Works – smkw.com.