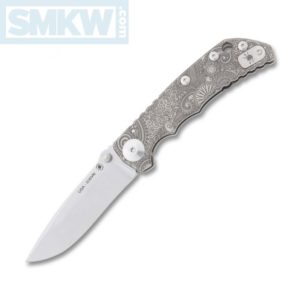 Produced in small batches, some high-end knives don't really fit in either the custom or the production knife category. They are notoriously unique. They're sometimes hard to find. Often they're incredibly drool worthy. SMKW calls those knives "Top Shelf Knives". The two knives in this article, one from Spartan Blades and one from Medford, are drool worthy top shelf knives.
First, if you haven't seen the knives from multiple Blade Show Award winning knife company Spartan Blades you've been missing out. Spartan Blades is a veteran owned small batch production company that operates from a small shop in the "Sandhills" of North Carolina. They use materials sourced entirely from the US. Most importantly, they make some of the most gorgeous knives we've ever seen.
They tell us they "aim to reinvigorate the sense of patriotism and national pride that comes from owning and carrying a well-designed, finely crafted knife that is made in the United States of America."  Their knives are designed to be "an heirloom to hand down along with your story to the next generation."  Each knife from Spartan Blades comes with free lifetime sharpening/honing.
The Spartan Harsey SF5 was designed by renowned maker William W. Harsey, Jr. It features full titanium construction with a laser engraved paisley pattern on the handle. The 4" S35Vn blade opens with ambidextrous thumb studs. It locks in place with a framelock. Even the ambidextrous tip-up pocketclip and titanium filler tap is gorgeous on this knife.
Spartan Harsey SF5 Details
CPM-S35Vn, Satin Finish
4" Drop Point
0.16" Blade Thickness
Titanium Handle
Framelock
Thumb Studs
Ambidextrous Tip-Up Pocket Clip
Lanyard Hole
4.875" Closed
8.75" Overall
Made in the USA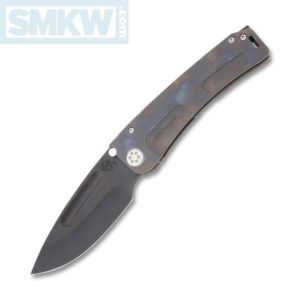 Veteran owned and operated, Medford Knife and Tool tells us they are "dedicated to making hand-crafted tools for the most demanding environments man and nature has ever conjured." They firmly assert they don't want their knives to be safe queens, they "want these living objects to work and move out in the real world. We want them to get scratched, gouged, pranged and worked and ultimately cherished by their owners." They state that ideally their knives will "eventually find that special place in an old keepsake box or chest. They will be passed on to sons and held with deep remembrance of the men who held them…"
The Medford Marauder H takes its name from the A-26 Marauder from WWII. This knife stands out from the crowd not only because of its incredibly sturdy construction. Its clean, geometric lines are a pure joy to behold. The anodized titanium handles have a patinaed appearance and a great feel in the hand.
The 4.25" black PVD coated CPM3V drop point blade has an extremely deep and wide fuller. This not only diminishes the weight of the whopping 0.19" thick blade, it also doubles as an easily accessible thumb groove opener. Once open, the blade firmly locks in with a framelock. Discretely hidden in the pommel is a striker tip.
Finally, this knife comes with a titanium tip-up pocket clip and lanyard hole. At 9.4 ounces, the Medford Marauder might be the lightest of knives. It is, however, more than durable enough to take most any punishment you want to dole out.
Medford Marauder H Details
CPM3V Steel, Black PVD Coated
4.25" Drop Point
0.19" Blade Thickness
Machined Titanium Handle
Thumb Groove
Framelock
Tip-Up Pocket Clip
Lanyard Hole
9.4 Ounces
5" Closed
9.25" Overall
Made in the USA

Overall, these US made, small batch production knives belong in the top shelf knives category. They're two knives that would be a welcome addition to any knife collection. To get these knives, click any link in the article or simply click the button below.