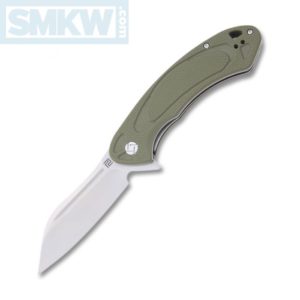 If you look at it just right, the affordable Artisan Immortal series has a hint of Nessmuk to it. There's a long slicing edge and a spine with a touch of that iconic hump. Are we saying it definitively is a Nessmuk inspired knife? No, but if you look at it just right it looks like it might be a modernized interpretation of it.
The knives in the Immortal series have a 3.5" modified drop point with a long, sweeping cutting edge. The flipper opening is remarkably fast and smooth thanks to the ceramic bearing pivot system.
Mounted on steel liners, the medium-sized handles are available in either G-10 or carbon fiber. The contouring on these knives makes for a comfortable grip. Detent is good and lock up is secure with a liner lock.
There's an ambidextrous tip up pocket clip. The weight of the knife is just under 6 ounces and the handle thickness is about a half-inch. All this means the Artisan Immortal a relatively easy carry for the size of the knife.
Click any image in the following gallery to launch a slideshow of larger images.
Artisan Immortal Details
D2 Tool Steel, Stonewashed
3.54" Modified Drop Point
Flat Ground
Blade Thickness: 0.15"
Carbon Fiber or G-10 Handles
Steel Liners
Handle Thickness: 0.25"
Flipper
Ceramic Ball Bearing Pivot
Linerlock
Ambidextrous, Tip-Up Pocket Clip
5.82 Ounces
5.12" Closed
8.85" Overall
The knives in the Artisan Immortal series are great knives you can get for about $60. If you're interested in these knives, click any link in the article or simply click the button below.


All images courtesy of Smoky Mountain Knife Works – smkw.com.