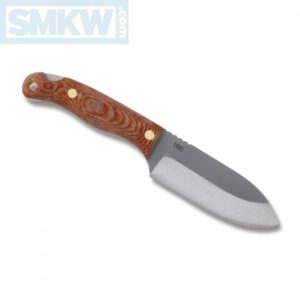 Designed by Walter Matthews, Special Forces Instructor, and founder of Chile's first Survival and Primitive Skills School, the Condor Toki has everything you want in a bushcraft or survival knife. It's a tough knife, ready for hard use.
Full tang constructed and featuring a 4.73" 1075 carbon steel drop point blade with convex grind, there's plenty of jimping on the spine for a sure grip. It has an elegantly curved finger groove, so you can safely choke up on the blade for fine detail work.
Secured with brass rivets, the canvas micarta handles are comfortable and slip resistant. Condor tells us, "Its curved handle has a 90-degree striker for fire starting with ferrocerium rods. It also has a concave notch of excellent diameter, which allows the faster and more stable spinner for use as a 'Bowdrill.'" It also has a lanyard tube for additional security.
Completing the package, the Condor Toki comes with a high quality, handcrafted, welted leather sheath and a storage pouch. Finally, it also includes a 1095 percussion fire starter.
Condor Toki Details
1075 High Carbon, Blasted Satin Finish
4.73" Drop Point
Convex Grind
0.2" Blade Thickness
Full Tang
Micarta Handles
Brass Rivets
Concave Notch
Lanyard Tube
Handcrafted Welted Leather Sheath
1095 Percussion Fire Started
15.2 Ounces
9.46" Overall
The Condor Toki is a well thought out design that makes an excellent addition to any gear. If you're interested in this knife click any link in the article or simply click the button below.


All images courtesy of Smoky Mountain Knife Works – smkw.com.