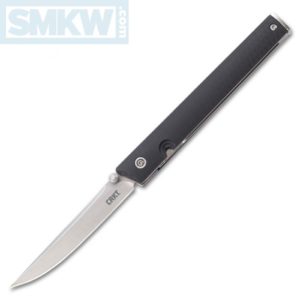 Designed by Richard Rogers, the new CRKT CEO is an affordable, thin, and elegant knife with a low profile. If you like the looks of a Kwaiken, you'll love the CEO. CRKT tells us it was "created with dress shirt pockets and v-neck scrubs in mind. The slim, low-profile CEO poses as a pen until a sealed letter needs opening or a suit needs a finishing touch."
In the closed position, the thumb stud on the CEO resides in a cut-out section of the GRN handle. That leaves the lightly textured handles with no protrusions that might accidentally snag on your pocket. Between the smooth design and the low weight of only 2 ounces, this knife practically disappears in almost any pocket.
Finally, it has an 8Cr13MoV clip point with a satin finish that swiftly opens via thumb studs made faster with lubed bearings and CRKT's IKBS pivot system.  Once open, the blade locks in place with a liner lock. Finally, it has a sleek stainless-steel tip-down pocket clip.
CRKT CEO Details
8Cr13MoV, Satin Finish
3.10" Clip Point
GRN Handles
Thumb Stud
IKBS Ball Bearing Pivot
Tip-Down Pocket Clip
4.45" Closed
7.55" Overall
The CRKT CEO is a sleekly designed knife you can get for about $40. To get this knife, click any link in the article or simply click the button below.


All images courtesy of Smoky Mountain Knife Works – smkw.com.