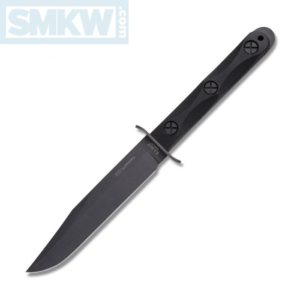 Originally designed and built by John Ek, the updated KA-BAR Ek45 Model 5 holds true to its design origins with a few updated features. It has a Parkerized 1095 Cro Van steel bowie blade and textured GFN handles.  KA-BAR tells us that originally the Ek Commando Knives "were purpose built for close quarter use that would become a hallmark of the US Marine Raiders, US Army Rangers, First Special Service Force, and Office of Strategic Services' Operational Groups."
The Ek45 Model 5 has a 6.875" bowie with a full tang constructed of Parkerized 1095 Cro Van steel. The blade width is 1.25" and the thickness is 0.154". All this results in a fast, rugged knife that will be durable under most circumstances.
The textured glass filled nylon handles has a sure grip. The traditional X-Head Fasteners invented by John Ek make it easy to change, replace, or discard the handles even in the field. It also has a 12GA Commercial Grd Carbon Steel cross guard.
The Celon molded polymer sheath has a retaining strap and a self-locking function. It also includes multiple tie down points which makes it tremendously versatile.
KA-BAR Ek45 Model 5 Details
1095 Cro Van Steel, Parkerized
6.875" Clip Point
Flat Grind
0.154" Blade Thickness
Full Exposed Tang
GFN Handles
Traditional X Head Fasteners
Celon Molded Polymer Sheath with Multiple Tie Down Points
12.94″ Overall
Made in the USA
The historically based KA-BAR Ek45 Model 5 combat knives are in limited supply so make sure you get yours before they're gone.  If you're interested in this knife, click any link in the article or simply click the button below.


All images courtesy of Smoky Mountain Knife Works – smkw.com.