With all the hustle and bustle of getting ready for all the new 2019 stuff, here are three 2018 releases that might have flown under the radar. Check out these two very good, cost effective flippers and one seriously cool multi-tool.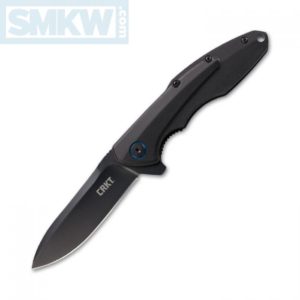 Designed by designer, mechanical engineer, and classic car enthusiast TJ Schwarz, the CRKT Caligo combines three loves and results in one great looking knife. With CRKT's IKBS ball bearing pivot system, this flipper flips with speed and smoothness. It has a 3.185" 8CrMoV modified drop point with a black oxide coating.
The black 6061-T6 aluminum handle looks like something you might see on a mid-to-late 50s Chevy. Just to make it pop, they've added an anodized blue pivot collar.  It also has tip-up pocket clip for easy carry and a lanyard hole.  You can get the Caligo for about $35.
CRKT Caligo Details
8Cr13MoV, Black Oxide Coated
3.185" Drop Point
Liner Lock
6061-T6 Aluminum Handle
Flipper with IKBS Ball Bearing Pivot System
Low Profile, Tip-Up Pocket Clip
Lanyard Hole
3.4 Ounces
4.471" Closed
7.625" Overall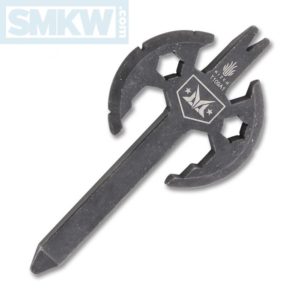 Designed by Eddie Diaz of Macho Blades, the Kizer Pry Axe is a wicked awesome little multi-tool that's as cool looking as it is useful. With an overall length of 3.5" and a weight of less than 1 ounce, this is an easy carry that practically disappears in the pocket. One-piece titanium constructed, it features a mini pry bar, a nail puller, hex drivers, a bottle opener, and a flat head screw driver. It's available in either anodized black or blue.
Kizer Pry Axe Details
Anodized Titanium, Black or Blue
Mini Pry Bar
Nail Puller
Flat Head Screw Driver
Bottle Opener
Hex Drivers
3.4" Overall

The Kershaw DuoJet is everything you expect from SpeedSafe assisted opener from Kershaw. It's fast, reliable, and good. The 3.252" 8Cr13MoV is titanium carbo-nitride coated.
Contoured for comfort, the steel handle is also titanium carbo-nitride coated and has carbon fiber inserts. It's finished with a tip-down, deep carry pocket clip and lanyard hole. You can get the DuoJet for about $30.
Kershaw DuoJet Details
8Cr13MoV, Titanium Carbo-Nitride Coated
3.25" Clip Point
Frame Lock
Coated Stainless Steel Handle with Dual Carbon Fiber Inserts
Flipper or Thumb Stud with SpeedSafe Assisted Opening
Tip Down, Deep Carry Pocket Clip
Lanyard Hole
4.9 Ounces
4.5" Closed
7.75" Overall

These three 2018 releases make a great addition to any knife collection. If you're interested in these knives, click any link in the article or simply click the button below.

All images courtesy of Smoky Mountain Knife Works – smkw.com.