Sometimes you just want a knife that's as easy on the pocketbook as it is on the pocket. Here are three folders you can get that won't break your pocket or your bank account.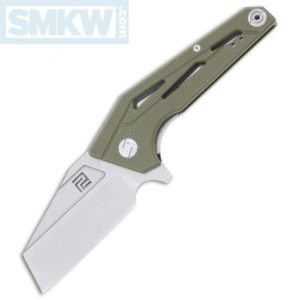 The new Artisan Cutlery Ravine has a hint of Autobots in its chunky profile. As always, this knife is available with multiple handles and with various steels including two different types of carbon fiber and m390 steel. For the purposes of this article, we're just going to to talk about the G-10 with D2 steel versions.  
It has a 2.83″ D2 modified cleaver blade with a stonewash finish. The flipper opening is fast and smooth with a ball bearing pivot. Once open, it locks open with a liner lock.
The G-10 handles come in black, OD Green, and orange. They're surprisingly comfortable given their angular, geometric shape. It has an ambidextrous, tip-up pocket clip and lanyard hole. At just over 5.5 ounces, this is a beefy knife that's still a remarkably easy carry. You can get this knife for about $60.
Artisan Cutlery Ravine Details
D2, Stonewash Finish
2.83″ Modified Cleaver
G-10 Handles
Linerlock
Ambidextrous Tip-Up Pocket Clip
5″ Closed
7.83″ Overall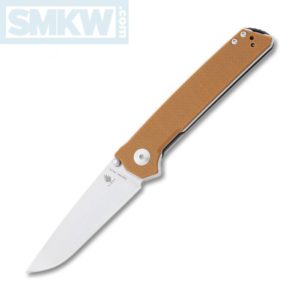 For a slim manual flipper with an easy ride in the pocket, you can't beat the Kizer Vanguard Series Domin. It has good steel, durable handles, and an ambidextrous tip-up pocket clip. You can get the Domin for about $50.
The Domin has a 3.46" drop point blade with a stonewashed finish. It opens with easily accessed ambidextrous thumb studs. The blade locks in place with a liner lock. Mounted on a stainless-steel frame, the G-10 handles come in three colors (black, OD green, and brown). They're only about an inch wide and less than a half inch thick. Combine this with a weight of less than 4 ounces and you've got an easy daily carry.
Kizer Vanguard Series Domin Details
VG-10, Stonewashed
3.375" Drop Point
G-10
Stainless Steel Liners
Thumb Studs
Liner Lock
Ambidextrous Tip-Up Pocket Clip
4.54" Closed
8" Overall

The Bear OPS Swipe III is a clean, classic knife. It has a 3.5″ 14C28N stainless steel drop point that opens with spring assisted thumb studs. The aircraft aluminum handles have been contoured for comfort and slip resistance. It also has a tip-down pocket clip and lanyard hole. At about 4 ounces, this is an easy daily carry you can pick up for about $55.
Bear OPS Swipe III
14C28N Stainless Steel, Satin Finish
3.5″ Drop Point
Hollow Grind
Assisted Opening
Thumb Studs
Aluminum Handles
Liner Lock
Tip-Down Pocket Clip
4.125″ Closed
7.625″ Overall
Made in the USA

Any one of these three EDC knives make an excellent edition to any daily carry rotation. To get these knives, click any link in the article or simply click the button below.


All images courtesy of Smoky Mountain Knife Works – smkw.com.