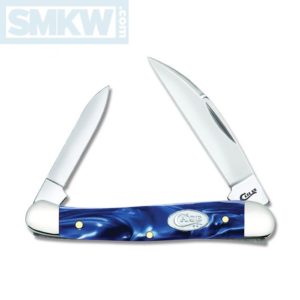 If you recall, we raved over the Case Red Pearl Kirinite Series before Christmas last year, but we think the Case Blue Pearl Kirinite series might be even better. The deep blue pearl in the handles really pop. They both shimmer and swirl, and we think this series, like most Case series, will be highly collectible and will wear well. Let's have a closer look at the series.
From what we can see, the Blue Pearl Kirinite in this series has the shimmer and shine of pearl, except it's a deep, deep gorgeous blue color pearl that doesn't exist in the real world. It's among the best looking Kirinite handles we've ever seen here at Knife Newsroom – to me, at least, it's even better than the Red Pearl Kirinite.
Each knife in this series features Tru-Sharp stainless steel blades, nickel silver bolsters, and a Case silver Sparxx shield. And, this new series features eight patterns, including the Stockman, Trapper, Mini-Copperhead, Mini-Trapper, Tear Drop, Small Texas Toothpick, Muskrat, and Copperlock.
Click any thumbnail below to launch a slideshow of larger images.
Case Blue Pearl Kirinite Details
Blue Pearl Kirinite Handles
Nickel Silver Bolsters
Tru-Sharp Surgical Steel Blades
Silver Sparxx Shield
Brass Pins and Liners
The Case Blue Pearl Kirinite series starts around $50 for the Small Texas Toothpick and rolls up to about $65 for the Copperlock. Want one of the knives in this series? Simply click any link in this article or the button below.