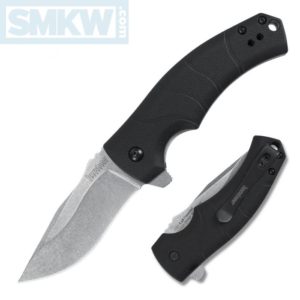 There's a mountain of choices in the 7″ modern folder category, but if you're looking for a little "extra", the Kershaw Valmara just might be the EDC you need. This modern flipper features Kershaw's tried and true SpeedSafe assisted opening mechanism and a recurve blade. At 7″ it feels like a lot more knife than most of your modern flippers.
Les George designed the Valmara for Kershaw and named it after an Italian landmine. The design benefits from all 22 years of Les George's design experience, as well as his years as a US Marine. Kershaw tells us, "The drop-point blade has a slight recurve for excellent slicing and multi-tasking capabilities. A top swedge thins the blade at the point, improving piercing. 8Cr13MoV blade steel ensures this blade takes and holds its sharp edge. The stonewashed finish looks good, hides scratches."
The Valmara's blade is 3.1″ and has a slight recurve in its belly. Jimping along the slight thumb ramp gives you just a little extra confidence to get down on this blade, and the linerlock locks this knife securely open.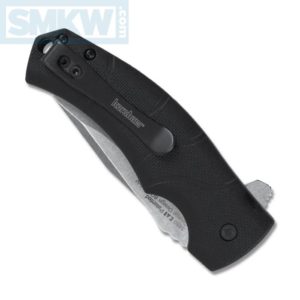 The GFN handle on the Valmara has a ton of grip. It features full contouring and heavy "S" surface texture. There's a handy (and removable), tip-up pocket clip with pre-drilled holes that make carrying it just as easy for a lefty.
Kershaw Valmara Details
Stonewash Finish 8Cr13MoV Steel Blade
SpeedSafe Assisted Opening
Flipper
Glass-Filled Nylon Handle
Linerlock
Reversible Tip-Up Pocket Clip
Lanyard Hole
3.1″ Drop Point Blade
4.1″ closed.
7.1″ overall
3.8 oz.
If you're looking for a bit of girth to your EDC, the Kershaw Valmara gives you that in a standard 7.1″ package. At $17, it's worth a shot.  If you're interested in this knife at all, click any link in the article or the button below.