Manufacturers are rolling out their new knives. They're also releasing some of your favorite knives with different materials or in different styles. Check out the new Buck, Victorinox Swiss Army, and Spyderco knives with new looks.
For a style like no other 110 combined with legendary quality, you can't go wrong with the Buck Micarta 110 Folding Hunter. This 500-piece, limited production run has a new look with OD green sculpted micarta handles, brushed brass bolsters, and a cast pewter shield.
The 3.75" 420HC clip point is satin finished. It also has a blade etch indicating it is the first production run of 2019 and that production is limited to only 500 pieces.
As always, lock up is secure with Buck's lock back. Finally, this knife comes with a nylon sheath with a belt loop attachment.
Buck Micarta 110 Folding Hunter
420HC, Satin Finish
3.75" Clip Point
Blade Etch
Lock Back
Sculpted Micarta Handles
Brushed Brass Bolsters
Brass Pins
Cast Pewter Shield
Nail Nick
Nylon Belt Sheath
6.4 Ounces
5" Closed
8.75" Overall
Made in the USA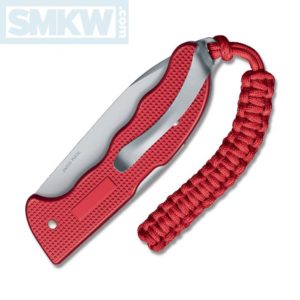 The Hunter Pro received a bit of an upgrade and a great new look to the Victorinox Swiss Army Hunter Pro Alox. It now comes as a two-handed opener with great looking red Alox handles. It also has the spring integrated "smart clip" that is easily removable or reversible and doubles as a pocket clip or a money clip as well as the included paracord pendant that premiered with the Alox Pro M.
Victorinox Swiss Army Hunter Pro Alox
Stainless Steel, Mirror Polished
4" Drop Point
Lock Back
Red Alox Handles
Reversible/Removable Smart Clip
Lanyard Hole
Paracord Pendant
6.6 Ounces
5.4" Closed
9.4" Overall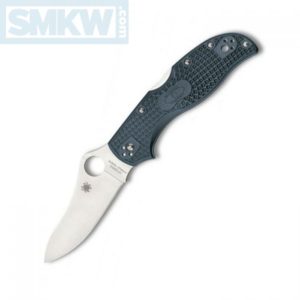 The handles on the Spyderco Stretch 2 Lightweight Blue FRN Sprint Run is the same Bi-Directional Texture FRN but with the blue-grey color that is the signature for their elite V-Toku2 Sprint Runs. The big make over on this lightweight, outstanding knife is with the blade steel.
Spyderco tells us it has "a central core of V-Toku2—a Japanese tool steel made with Swedish iron ore and enriched with tungsten, vanadium, and chromium. Renowned for its toughness at high hardness, the V-Toku2 center layer is flanked by outer layers of SUS410, a martensitic stainless steel that enhances the blade's strength and provides it with a somewhat greater degree of corrosion resistance. This unique layered construction is evident when the full-flat-ground blade is examined closely, as the transition between the core and outer layers is clearly visible just above the cutting edge."
The Stretch 2 Blue-Grey Sprint Run opens with their trademark Round Hole and has a four-position hourglass pocket clip making this a fully ambidextrous knife. Once open, the 3.45" drop point blade locks in place with a back lock.
Spyderco Stretch 2 Lightweight Blue FRN Sprint Run Details
V-Toku2, Satin Finish
3.43" Drop Point
0.118" Blade Thickness
Full Flat Grind
Back Lock
Blue-Grey FRN Handles
Bi-Directional Texture
Skeletonized Stainless Steel Liners
Four-Position Pocket Clip
3.7 Ounces
4.71" Closed
8.14" Overall

Any one of these three knives sporting new looks would make an outstanding addition to any knife collection. If you're interested in these knives, click any link in the article or simply click the button below.


All images courtesy of Smoky Mountain Knife Works – smkw.com.