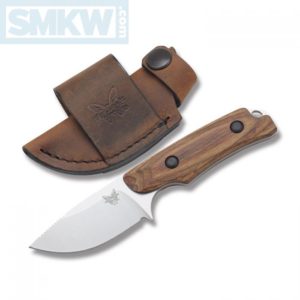 When you're perusing a line of knives, sometimes a knife just jumps out at you. That's what just happened when I saw the Benchmade Hidden Canyon Hunter. Don't get me wrong. It's not a bad thing. In a sea of gorgeous modern folders made by one of the best knife brands in the world (Benchmade), the Hidden Canyon Hunter was different – almost old school, but modern at the same time. It spoke to me.
The Benchmade Hidden Canyon Hunter is a full tang, fixed blade, hunting knife.  At 6.3″ overall, it's not a big knife, but it's enough knife. The 2.7″ CPM-S30V blade has a large blade radius. As Benchmade tells us, "It's truly about as much knife as you'll ever need for processing your harvest thanks to the large applied blade radius that excels at skinning and meat removal."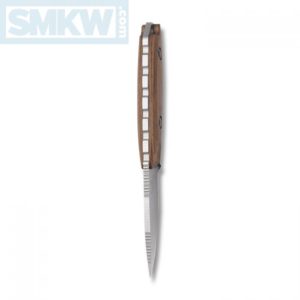 I love the ample amount of jimping that's been placed at just the right spots on the spine. There's tight jimping toward the point of the blade for your index finger when you're skinning, as well as where you'd rest your thumb atop the blade when you're cutting.  It's truly a work of art. And, if that wasn't enough, there's a nice wide lanyard hole at the base of the tang, so you can tether your knife with cord for heavy use.
The handle scales are stabilized wood with double rivets, and they go perfectly with the old school sheath. It's a brown leather sheath that looks like it's been distressed over time.
Benchmade Hidden Canyon Hunter Details
CPM-S30V 2.7″ Blade
Full Tang Construction
Strategic Jimping
Stabilized Wood Handle Scales
6.3″ Overall
3.5 oz.
Leather Sheath
The Benchmade Hidden Canyon Hunter really stood out to me. It's not your average Benchmade, but it's definitely made with the same quality and attention to detail that Benchmade puts into every knife. If your'e interested in one of these gorgeous knives, click any link in this article or the button below.