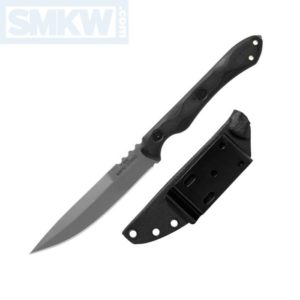 From quality materials and some fantastic design elements the TOPS Rapid Strike just might be the perfect daily carry fixed blade. TOPS tells us, "Whether you're deployed to one of the current hot spots around the world, serving and protecting in your neighborhood, or just a prepared citizen who wants something to help get you home safe, the Rapid Strike is perfect for you. Plus, it makes a great steak knife too."  Designed by Leo Espinoza, the TOPS Rapid Strike has a 4.13" 154CM spear point blade with a tumbled finish that's been cryo-treated to an HRC of 58-60, making this an easily cleaned and sharpened lower maintenance knife. There's a swedge on the spine that you can sharpened to make this an even more battle-ready double-edged dagger.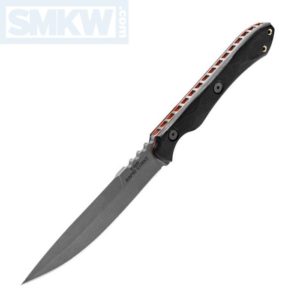 The black G-10 handles are both durable and slip resistant. They've also included some aggressive recessed jimping throughout the handle to ensure maximum slip resistance for almost every possible grip. It comes with a black Kydex sheath with a multi-position spring steel clip. This is great because it allows for multiple ways to both carry and quickly deploy your knife.  The combined weight of both the knife and the sheath is only 4.6 ounces which means this knife is easily carried almost anywhere without weighing you down.
TOPS Rapid Strike Details
154CM Steel, Tumbled Finish
4.13" Spear Point
Cryo-Treated
58-60 HRC
0.13" Blade Thickness
G-10 Handles
Kydex Sheath with Multi-Position Clip
3.1 Ounces Knife Weight
4.6 Ounces Overall Weight
8.63" Overall
If you're looking for a lightweight, battle built fixed blade for every day carry, you can't go wrong with the TOPS Rapid Strike. To get this knife, click any link in the article or simply click the button below.


All images courtesy of Smoky Mountain Knife Works – smkw.com.