Often an old knife that has two different tang stamps is an indicator that the knife is a fake, unless that knife is a transition knife. Sometimes the makers would have leftover knife parts from the previous production run. Someone somewhere would decide to change a tang stamp with the next batch for whatever reason. In order to get rid of the last run of blades and avoid waste, manufacturers would use the remaining parts from the previous run with the new run. These knives are usually called transition knives, because they're transitioning from the old stuff to the new stuff. That's why you can occasionally have two different yet legitimate tang stamps on the same old pocket knife.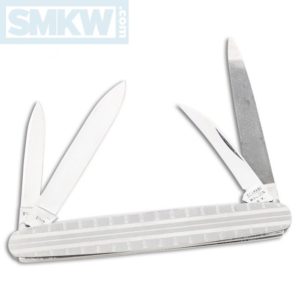 The 1946 Schrade Walden Transition Banker's knife has two different tang stamps: the main pen blade reads Schrade [over] Cut. Co. [over] Walden, N.Y. which dates this knife to the 1917 until 1946. The secondary pen blade and the coping blade read Schrade [over] Walden [over] N.Y. which date it between 1946 and the 1950s.  Transition knives can often be more valuable than the exact same knife, made in the same year with matching parts because they're fairly rare. Often when tang stamps don't match each other it's usually one sign a knife is a fake. Transition knives are one special exception to that general rule.
1946 Schrade Walden Transition Banker's Knife Details
Stainless Steel, Mirror Polished
1.75" Pen Blade and File
1.25" Pen Blade and Coping Blade
Embellished Stainless Steel Handle
EZ Open Cutout
Nail Nick
2.875" Closed
4.625" Overall
Made in the USA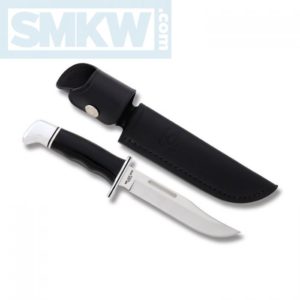 A couple of years back, Buck celebrated its 75th anniversary by releasing a special edition of the Buck 119. Once the celebration was over, they still had a few of the blades stamped with the 75th Anniversary tang stamp. Rather than wasting blades, they reused them for a Buck 119 Special 75th Anniversary Transition Knife.
The 420HC clip point has the 75th stamp and the fuller. The included black leather sheath has the 75th anniversary logo. They added black Phenolic handle and an aluminum guard pommel. These were in very limited production and because they're transition knives, they're much more likely to up in value over time than a regular Buck 119.
Buck 119 Special 75th Anniversary Transition Knife
420HC, Mirror Polished
6" Clip Point
Black Phenolic Handle
Aluminum Guard and Pommel
Black Leather Sheath with Belt Loop Attachment
10.5" Overall
Made in the USA

Transition knives are often highly collectible and make excellent additions to any knife collection. To get these knives, click any link in the article or simply click the button below.


All images courtesy of Smoky Mountain Knife Works – smwk.com.