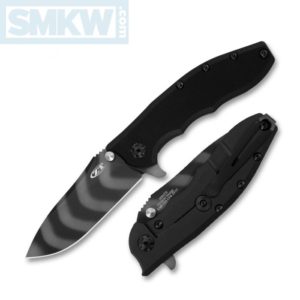 Taulatin, Oregon – Rick Hinderer's popular design gets all tiger striped up in here with the ZT 0562TS Sprint Run. Not only that, they also upgraded the steel and gave the titanium back frame a black DLC coating.
The 0562 is meant to be a beefy user and this limited production Sprint Run is no exception. The 3.5" 20CV drop point has a blade thickness of 0.156" and has been given ZT's instantly recognizable tiger strip DLC coating. The KVT ball bearing pivot system ensures a fast and smooth opening with either the flipper or ambidextrous thumb studs. ZT tells us lock up is incredibly secure because they, "…use a frame lock with hardened steel lockbar inserts and lockbar stabilization so the lock won't overextend."
The front scale is a textured G-10 for a great grip. The handle back handle has a black DLC coating to keep things easy on your pocket. Finally, it has a deep carry, ambidextrous, tip-up pocket clip.
ZT 0562TS Sprint Run Details
20CV Stainless Steel, Tiger Stripe DLC
3.5" Drop Point
0.156 Blade Thickness
Textured G-10 Front Handle, Black DLC Coated Titanium Back Handle
Frame Lock with Lockbar Stabilizer and Hardened Steel Lockbar Insert
Flipper and Ambidextrous Thumb Stud Opener
KVT Ball Bearing Opening
Ambidextrous Deep Carry Tip-Up Pocket Clip
5.6 Ounces
4.8" Closed
5.3" Overall
Made in the USA
The ZT 0562TS Sprint Run will be available in very limited quantities so make sure you get yours before they're gone. To get this knife click any link in the article or simply click the button below.


All images courtesy of Smoky Mountain Knife Works – smkw.com.