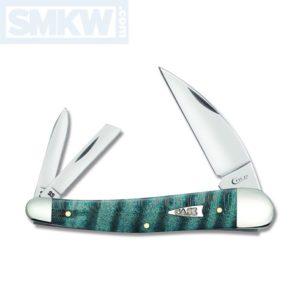 It's hard to decide what we like best about the new Case Turquoise Curly Maple series. Is it the gorgeous natural wood handles?  Is that that it comes in all our favorite patterns? We just can't decide the best reason to love them. We just know we do.
Featuring maple eye burl handles dyed a jewel-toned turquoise, the handles on these knives are just exquisite. The colors almost seem to ripple and move in the right light.  They're accented with a nickel silver bolsters and a Case Arrowhead shield.
The Tru-Sharp surgical steel blades are mirror polished in the way that few companies take the time to do anymore. We were excited to see all the favorite patterns (like the Seahorse Whittler, Barlow, and even a Kickstart) in this series.
The Case Turquoise Curly Maple series will be available in the following patterns: Barlow, Mini Trapper, Seahorse Whittler, Trapper, Peanut, Medium Stockman, Kickstart Mid-Folding Hunter, and Canoe.  Click any image in the following gallery to launch a slideshow of larger images.
Case Turquoise Curly Maple Series Details
Tru-Sharp Surgical Steel, Mirror Polished
Turquoise Curly Maple Eye Burl Handles
Brass Pins and Liners
Nickel Silver Bolsters and Arrowhead Shield
Prices for the Case Turquoise Curly Maple series start at about $57 for the Peanut and go up to $110 for the Case Kickstart Folding Hunter. To get one of these knives, click any link in the article or simply click the button below.


All images courtesy of Smoky Mountain Knife Works – smkw.com.