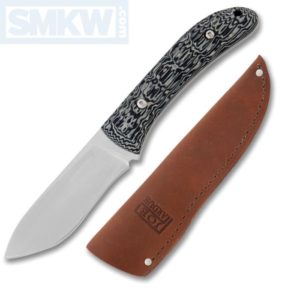 Insider Info: We have the full story from SMKW about the Joe Pardue Custom Hunter. Our warehouse source at SMKW tells us that back in 2012, SMKW ordered 25 of these knives from Joe Pardue. They sold quite a few of them, but eventually they made their way to a warehouse shelf where they lay forgotten for several years. How can this happen, you wonder? Their warehouse is huge. Things happen. Our source contacted us, so we could let you know they have a few of these fantastic USA, handmade fixed blades.
Featuring a satin finished 3.5" recurved drop point blade, the Pardue Custom Hunter is a medium sized knife with an incredibly sturdy build. Full tang constructed, it has a blade thickness of just over 3/16". It's beautifully balanced with the bulk of the weight resting perfectly in the palm of your hand.
The black and white G-10 handles are not only great looking, they're both comfortable and slip resistant under almost any conditions. They are a bit rounded and machined with grooves in a pillowed pattern.
Joe Pardue Custom Hunter Details
D2, Satin Finish
3.5" Recurve Drop Point
Full Tang
0.18" Blade Thickness
G-10 Handles
Lanyard Hole
Leather Sheath
6 Ounces
7.87" Overall
Made in the USA
The Joe Pardue Custom Hunter is a great knife and a rare find. To get this knife, click any link in the article or simply click the button below.


All images courtesy of Smoky Mountain Knife Works – smkw.com