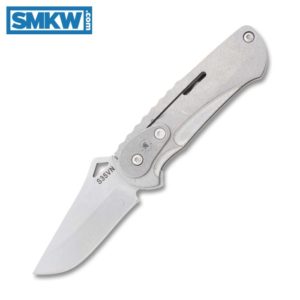 We've talked about Spartan Blades before, and there's no denying this veteran owned and operated small batch knife manufacturer makes some of the most beautiful knives on the market. We're here to tell you they also make some of the most innovative. The Spartan Blades Nymph is not a new knife but it's one that might have flown under the radar for many knife fans. This is a really cool little slip joint folder that was innovative enough to win the 2014 Blade Show Most Innovative American Made Knife of the Year Award. What's so cool about it? It's a small, modern slip joint folder without a back spring. They call it an "integral frame slipjoint."
The idea for this knife started in 2012 at the IWA Show in Germany after several people discussed the limitations of using some of the larger modern folders. Blade locks, blade lengths, and one-handed openings can cause a variety of difficulties in some daily carry environments. Shortly thereafter, they had an idea to make a modern slipjoint using as few small blanked parts as possible. Eventually, they took their idea to Les Halpern of Halpern Titanium. His idea was to eliminate the backspring and to instead make the frame the spring. The result of the collaboration between Spartan Blades and Les Halpern resulted in this really slick backspring-less, EDC friendly folder.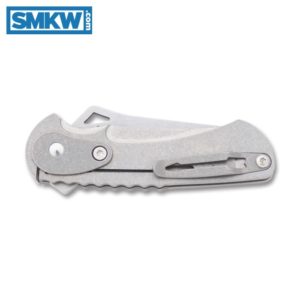 Here's how Spartan explains it, "…the dorsal side of the frame is cut to work as a spring and holds a pin that creates a bias to close and open. The blade is opened by pushing on the tab on the blade (it is not a flipper tab!) with one hand and pulling with the thumb and forefinger on the triangle cut-out of the opposite side and hand. Additionally, the pin 'locks' into the blade when held firmly by the users thumb and forefinger in position of use but is free to rotate upon release of the frame handle."
For a small folding knife that conforms to a variety of blade laws, the overall look and functionality of this knife is outstanding. It performs exactly as Spartan Blades describes it.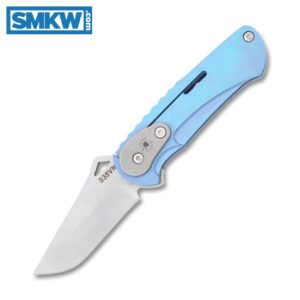 The Nymph has an S35VN stonewashed drop point blade that is just under 2" long with a blade thickness of 51/64ths or 0.08". The opening is smooth and even with no wobble or grind to be found.
The titanium handles look amazing. They're clean and modern with just a touch of branding that, rather than detract from the overall appearance, give the Nymph an incredibly refined and distinctive look. There's some incredibly well done jimping along the handle that is adds slip resistance to ensure a firm grip without being so rough that it wears out your pocket or hand.
Finally, the Spartan Nymph has a titanium tip up pocket clip. It's about 2-3/4" closed and weighs only 1.2 ounces. All that means this knife is a discreet carry that easily fits with almost any daily carry situation.
Spartan Blades Nymph Details
CPM-S35VN, Stonewash Finish
2" Clip Point
Integral Frame Slipjoint
Titanium Handles
Tip-Up Pocket Clip
1.248 Ounces
2.75" Closed
4.75" Overall
Made in the USA
If you're looking for an award winning, innovative, and gorgeous knife that suitable for almost any EDC situation, check out the Spartan Blades Nymph. If you're interested in this knife, click any link in the article or simply click the button below.


All images courtesy of Smoky Mountain Knife Works – smkw.com.