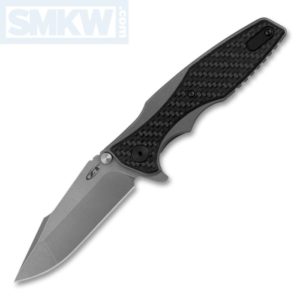 Remember that time we were excited about the floating Helle? Well, the ZT 0939GLCF might be even more exciting. It glows. In the dark. No, really! Not only does it glow in the dark, it's looks great (like normal carbon fiber) in the light! It's super awesome stealthy coolness that just happens to come with an awesome beastly knife.
The 3.5" 20CV Spanto style blade has Hinderer's "working finish" which does a great job of hiding most scuffs and scratches. Zero Tolerance tells us, "The blade shape offers maximum cutting power with a sturdy tip for piercing. The 20CV steel provides superior hardness and corrosion resistance, along with toughness, wear resistance, and excellent edge retention." It also has a harpoon spine and a blade thickness of around 1/8".
The flipper or thumb stud opening is great thanks to the KVT Ball Bearing Pivot system. Lock up on this knife is outstanding. It not only has a frame lock with a hardened steel lock bar insert, the thumb studs also do double duty as a stop pin, which helps prevent hyper-extension of the blade.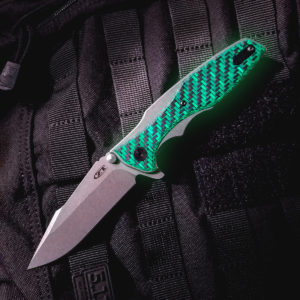 Mounted on a titanium frame is, in the bright light of day, a carbon fiber overlay. It glows in the dark. Did we mention it glows in the dark? Click the video up there, you can see it for yourself. Why are glow in the dark handles so cool? Ever dropped your knife and have it land in a dark spot, like under the seat of your car? Well, rather than blindly feeling around to find your knife, the ZT 0393GLCF will shine like a beacon in the dark. That makes it literally one of the easiest knives in the world to find.
ZT 0393GLCF Details
CPM 20V, Stonewash Finish
3.5" Spanto Blade
0.156" Blade Thickness
Frame Lock with Hardened Steel Lockbar Insert
Titanium Handles
Glow-in-the-Dark Carbon Fiber Overlay
Flipper or Thumb Studs
KVT Ball Bearing Opening System
Ambidextrous Tip-Up Pocket Clip
5 Ounces
4.75" Closed
8.25" Overall
Made in the USA
The ZT 0393GLCF with its glow-in-the-dark handles might be one of the top ten coolest knives of the year. If you're interested in this knife, click any link in the article or simply click the button below.


All images courtesy of Smoky Mountain Knife Works – smkw.com.