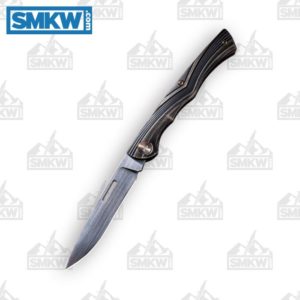 The WE Knife Co Scamp is WE's second venture in the slip joint arena, and with it, they might have won the 2019 Slip Joint Championship belt. This thing is a beautiful knife with an amazing finish and a near perfect walk and talk.
Let's start with the handles on this beauty. The Scamp has textured titanium handles that have an almost brushed bronze finish. It literally looks like someone sat there lovingly rubbing bronze into the milled handles until they gleamed. The bronzed titanium pivot and screws perfectly emphasize those bronze highlights. The fit and finish is flawless, and the stainless steel backsprings are smooth as glass.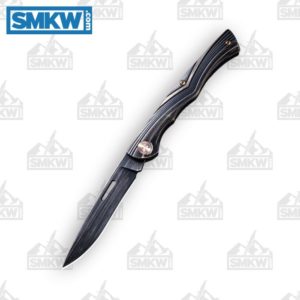 The almost 3" S35VN drop point blade comes with either a brushed black finish or a satin finish and has a 0.10" blade thickness with a 59-61 HRC. Rather than a traditional nail nick, straight pull, or match strike pull, WE gave this blade a thumb slot.
Opening is still two-handed, but it's a smooth and easy two-handed open. We might have been compelled to snap it a time or twenty, just to test the walk and talk as well as the smoothness of the half stops. As a final touch, they've included the hidden the lanyard slot at the butt of the knife in case you like your pocket jewelry to wear a touch of bling.
We Knife Co. Scamp (Series 905) Details
CPM-S35VN, Satin Finish or Black Wash
2.95" Drop Point
0.10" Blade Thickness
Slip Joint Folder
Milled Titanium Handles
0.40" Handle Thickness
Titanium Pivot Cap and Screws
Stainless Steel Backspacers
1.8 Ounces
3.95" Closed
6.9" Overall
The WE Knife Co. Scamp is a beautiful example of traditional form and function meeting modern technology. If you're interested in this knife, click any link in the article or simply click the button below.


All images courtesy of Smoky Mountain Knife Works – smkw.com.