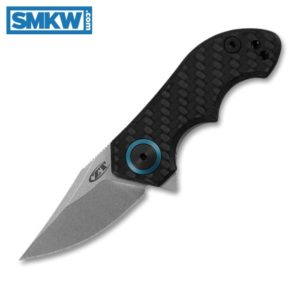 Built by ZT and designed by renowned maker Tim Galyean, the ZT 0022 might be both the cutest and most clever knife in ZT's 2019 line up that we've seen thus far. Galyean is widely known as the creator of beefy, badass tactical knives like the Junkyard Dawg, the MOAB, and the Kershaw Launch. He's such a legendary tactical knife guy, it feels inherently wrong to use the word "cute" about any Galyean design. However, we so proudly stand by that adjective that we're willing to risk the Editor's glare.
We not only stand by the "cute" adjective, if you're a fan of Galyean's design work, you'll see it's also remarkably clever. Here's why. It has a big, beefy and all-around badass shape combined with the sweeping lines and contours which are hallmarks of a Galyean design. ZT then built it with all the smooth, fast snap and bite of any other full sized ZT flipper – and then they shrunk it down into an itty-bitty folder. It's clever. It's amazing, and we are madly in love with it.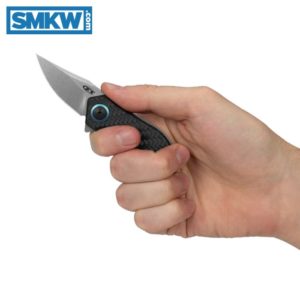 Here are the specs: It has a 20CV clip point blade of just under 2" and a closed length of only 3". Size-wise it's comparable to the Kershaw Chive. We spent loads of time flipping this little beauty, and we're here to tell you it has all the quick, smooth action you know and love about a ZT manual flipper. Not only that, it does every single daily task we asked of it. We work in an office. It opens both the Doritos bag and the giant shipping box wrapped in duct tape with ease.
We will, however, caution you with this. If you aren't paying attention, the ZT 0022 will bite you. It's a short knife, with a short handle, and it doesn't like to be gripped and flipped just any old way. We will never again chew Doritos and write an article, while mindlessly flipping the 0022. Just saying.
Once open it firmly locks in place with a framelock. Mounted on a stonewashed titanium frame, the front scale is carbon fiber which features a decorative pivot with a blue anodized pivot collar and matching tube spacers.
ZT 0022 Details
CPM 20CV, Stonewashed Finish
1.8" Clip Point
0.121" Blade Thickness
Flipper with KVT Bearings
Titanium Framelock with Hardened Steel Lockbar Insert
Carbon Fiber Front Scale, Stonewashed Titanium Back
Blue Anodized Pivot Collar and Tube Spacers
Ambidextrous, Tip-Up Pocket Clip
1.7 Ounces
3" Closed
4.75" Overall
Made in the USA
The ZT 0022 is a beautiful, quality made flipper that is both clever and cute. To get this knife, click any link in the article or simply click the button below.


All images courtesy of Smoky Mountain Knife Works – smkw.com.