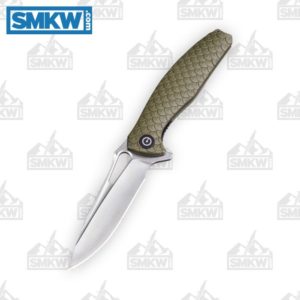 Do you want a great design with D-2 tool steel, FRN handles, and a very similar action to what you'd expect from a WE Knife for about $50? Yes, please. We're looking at the CIVIVI Wyvern made by the WE Knife Co., and we like what we see.
First, the CIVIVI Wyven looks like a dragon. Not in fun budget knife sort of way, but in an elegant, refined way. You see, the dragon is in the lines. This is great because it lets you pretend you're a grown up, while deep inside your inner little kid is screaming, "It's a dragon!"
The Wyvern has a satin finished 3.45" D2 drop point with an elongated thumb hole that morphs into a fuller and results in an eye. There's jimping on the thumb ramp for a great grip and adds an extra touch of dragon to the eyes.
This beautiful beast opens with either the thumb hole or flipper. It also has stainless steel bearings in the pivot for a great opening, every time.
The dragon motif continues with the FRN handles which are textured to look like dragon scales. They have a great grip and a comfortable hand feel. It's available with either a green or a black handle. Finally, it comes with a liner lock, a tip-up pocket clip, and a lanyard hole.
CIVIVI Wyvern Details
D2, Satin Finish
3.45" Drop Point
0.12" Blade Thickness
Hollow Ground
Thumb Hole or Flipper Open
Stainless Steel Ball Bearing Pivot
Black or Green FRN Handles
Liner Lock
Tip-Up Pocket Clip
Lanyard Hole
4.45" Closed
7.9" Overall
Made by the WE Knife Co., the CIVIVI Wyvern is a great knife you can get for about $50. To get this knife, click any link in the article or simply click the button below.


All images courtesy of Smoky Mountain Knife Works – smkw.com.