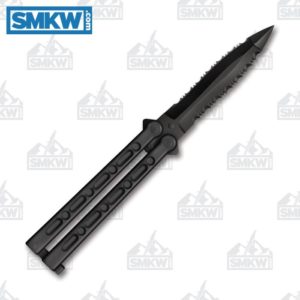 Here at Knife Newsroom, we live to write articles about the Cold Steel knives that are fun. Here recently, we've been entirely caught up in writing about the knives in their 2019 lineup that are undeniably amazing. Finally we get to write about the Cold Steel FGX Balisong. Are we the only ones who desperately want to watch Lynn Thompson flip a balisong? We think the entire world wants to watch him flip one. In the video above, he promises that a truly flipper friendly Bali is in the works. The FGX Balisong is not a friendly flipper. It's a gnarly, gnaw-your-knuckles-off serrated, double-edged dagger of ultra-supreme badassedness.
The FXG Bali is an inexpensive but impressive weapon without an ounce of metal in it.  Cold Steel tells us it is, "[m]ade entirely of Griv-Ex™ and other strategic non-metal materials…" It won't set off an bells, and this beastly knife costs about $13.
The handles exhibit as much slip resistance as you expect. The 5" serrated dagger is doubled edged and has a reinforced, straight edge tip  with tremendous piercing power.  It also has a retaining latch, so you can lock it in either the open or closed position.
Cold Steel FGX Balisong Details
Griv-Ex, Double Edge
5" Dagger, Serrated
Balisong
1" Blade Thickness
Griv-Ex Handles
Retaining Latch
2.2 Oz
6" Closed
11" Overall
Made in the USA
The Cold Steel FGX Balisong is a beastly knife made of all composite materials (no metal) for about $13. To get this knife, click any link in the article or simply click the button below.


All images courtesy of Smoky Mountain Knife Works – smwk.com.