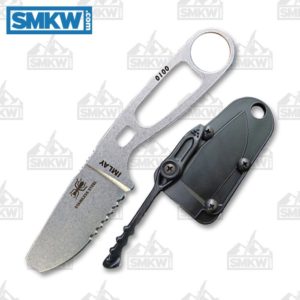 The ESEE Imlay is ESEE's first rescue knife, and they did a heck of a job with it. It's based off the Izula, so it's a small, easily carried fixed blade with tons of thoughtful elements. You can pick up the Imlay for about $70.
Developed by the ESEE team during their Search and Rescue, swiftwater, and recreational rope courses, this knife has everything you need in a rescue knife. As always, it comes with ESEE's 100% unconditional lifetime guarantee – if it breaks and you can get them even a piece of the knife, they'll replace it, even if you did something dumb with it.
The ESEE Imlay features skeletonized, one-piece 440C construction for a light weight, corrosion resistant knife that holds an edge better than 1095.  The 2.25" drop point is partially serrated and has a blunted tip for safe use with tensioned ropes and in rescue situations. There's jimping throughout the knife for a more secure grip. The handle has an O2 slot and a carabiner hole.
They've taken an innovative step with the sheathing system for the Imlay. It comes with an injection molded sheath with an Izula clip plate, however it also has a secondary retention strap for added security. ESEE tells us, "The retention strap is designed to stay on the knife during use and features a long tail for easier manipulation with gloved hands."
Not only is this a great knife, according to ESEE Knives, "10% of gross sales for the Imlay Rescue knife go to support operational costs of RAT-SAR, a 501(c)3 non-profit, all volunteer search and rescue organization." According to Randall's Adventure Training, the RAT-SAR provides a variety of search and rescue classes throughout the years and is "…a private, non-profit, non-government, specialized search and rescue organization incorporated under the laws of the State of Alabama and founded on the principle of self-sufficient, mobile teams trained to operate in remote high-angle, natural subterranean, flood / swiftwater, and other austere environments."
ESEE Imlay Rescue Knife Details
440C, Stonewashed Finish
2.25" Blunt Tip, Partially Serrated Edge
0.156" Blade Thickness
Flat Grind
Skeletonized, One Piece Construction
O2 Slot
Carabiner Hole
Injection Molded Sheath with Clip Plate
Secondary Retention Strap
3.1 Oz with Sheath and Strap
5.9" Overall Length
Made in the USA
The ESEE Imlay is a great rescue knife that benefits charity and comes with a sensational warranty. You can get it for about $70. To get this knife, click any link in the article or simply click the button below.


All images courtesy of Smoky Mountain Knife Works – smwk.com.