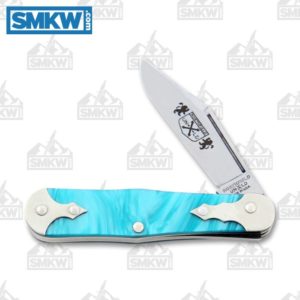 Have you seen the GEC Northfield Templar? It's about as different as a traditional folder can get. Basically, it's something of a ren-faire take on a pocketknife, and we love it.
It has a 2" 1095 carbon steel clip point blade with a satin finish and a UN-X-LD coat of arms blade etch. It opens with a forged straight pull. It has a swedge on the spine that's reminiscent of a swedge one might find on an antique sword.
We are adults with grown up jobs who would never loudly challenge a co-worker to a pretend duel with a slip joint knife that has an overall length of about 4-3/4". And, of course, we'd also never loudly proclaim, "that's not fair" when that someone else took us up on the pretend duel and pulled out an Espada XL.
Mounted on a stainless-steel frame, this knife has very pretty acrylic handles accented with unique nickel silver bolsters. The closed length is about 2-1/4" and this knife weighs just under 2 ounces. That means it's not only a fun different daily carry, it practically disappears in the pocket.
GEC Northfield Templar Details
1095 Carbon Steel, Satin Finish
2" Clip Point
Blade Etch
Forged Straight Pull
Slip Joint
Half Stops
Acrylic Handles
Stainless Steel Liners
Nickel Silver Pins and Bolsters
2.812″ Closed
4.812″ Overall
Made in the USA
There's no better way to add a touch of whimsy to your daily carry than the GEC Northfield Templar. To get this knife, click any link in the article or simply click the button below.


All images courtesy of Smoky Mountain Knife Works – smkw.com.