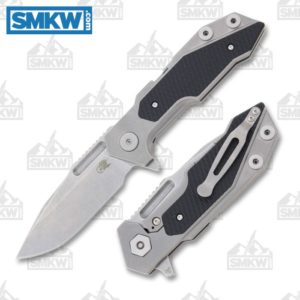 The
Hinderer Knives Full Track
is the bigger version of the Half Track. It's also a really, really cool knife with a ton of new tech. Rick Hinderer has a "make it your own" philosophy when it comes to his knives. He likes to give the user the ability to easily customize their knife. He was one of the first (and maybe THE first) to make a reversible pocket clip. He led – and maybe started – the market on user customization (i.e. changing out both grips, pocket clips, and so forth) to suit your preferences. With the Full Track, he's once again created new technology that results in a knife that is likely the one of the most user friendly, instantly customizable knives on the market.
The Tech
It has a tool that's housed on the knife that lets you adjust it to your liking or even take it all the way apart. Where the backspacer would be is a tool locks that in place and is easily removed. You can take the tool off the knife and use one of the two machined bits to remove the handle screws and the pivot. You can essentially field strip your knife with nothing more than, well, your knife.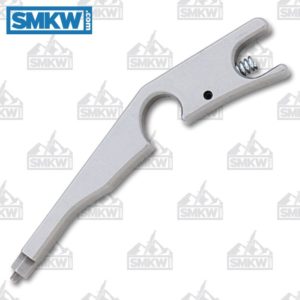 Additionally, the pivot system on the Full Track is Hinderer's new Tri-Way Pivot System. This is actually a really awesome innovation for many because it allows the user to choose which type of pivot system they are going to use – nylon (which Hinderer uses), phosphorous bronze washers (like Spyderco), or bearings (like many flippers). Additionally, the handles have a small, thin storage compartment so you can carry (or store) a different set of bearings with you. You like a fast, hard flip? Go with bearings. Smooth controlled flip? Washers. Say you're going into an environment where there's a chance your pivot will get gunky or exposed to corrosive elements – switch from your bronze washers to the nylon bearings. It's designed so you can fix, repair, or adjust your knife on the go without carrying anything else with you.
Knife Facts
With a 5" closed length and a 8.875" length overall, the Full Track isn't a small knife. Because of the thoughtful build on this knife, it's an easy carry at just under 7 ounces. The 3.75" S20CV spear point has a wide fuller that could double as an opener and shaves a bit of weight off the knife. The milled titanium frame has textured G-10 inlays – like on a traditional folder with a mother of pearl inlay. He milled out the titanium handle to inlay the G-10. This also cuts down on the weight of the knife and provides slip resistance. This, in addition to the new tech, is also an extra touch that distinguishes, and elevates, this $600 knife from a lot of knives of lesser dollars. The Full Track a seriously cool knife.
Hinderer Knives Full Track Details
CPM-20V, Working Finish
3.75" Spear Point
0.17" Blade Thickness
1.38" Blade Width
Flipper with Tri-Way Pivot System
Frame Lock
Titanium Handles with G-10 Inlays
1.25" Handle Width
0.55" Handle Thickness
Removable Adjustment Tool
6.90 Oz
5.12" Closed
8.8" Overall
Made in the USA
The Hinderer Full Track is a really cool knife with a ton of new tech. If you're interested in this knife, click any link in the article or simply click the button below.


All images courtesy of Smoky Mountain Knife Works – smkw.com.