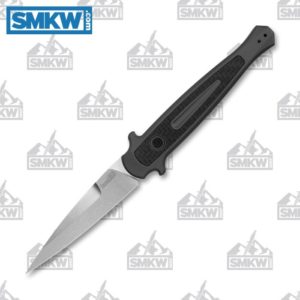 The new Kershaw Launch 8 is a side opening, push-button automatic patterned after old-world Italian stilettos. It's an easy daily carry with all the high-quality, modern technology you could possibly want, and it's made in the USA.
It has a 3.5" CPM 154 stonewash finish dagger blade with a classic swedge on the spine (that makes it look like a second edge, really). There are dual finger guards which not only protect your fingers, but also add to the great looking classic dagger profile.
The gray anodized aluminum handles have a carbon fiber insert on the front. It also has an ambidextrous tip-up pocket clip. With a weight of 2.4 ounces and a handle width of just under a half-inch, this makes an attractive and easy daily carry.
Kershaw Launch 8 Details
CPM 154, Stonewash Finish
3.5" Dagger
Push Button Automatic
Anodized Aluminum Handles with Carbon Fiber Insert
0.45" Handle Width
Ambidextrous Tip-Up Pocket Clip
2.4 Ounces
4.75" Closed
8.25" Overall
Made in the USA
For a slim, stellar stiletto you can't go wrong with the Kershaw Launch 8. To get this knife, click any link in the article or simply click the button below.


All images courtesy of Smoky Mountain Knife Works – smwk.com.