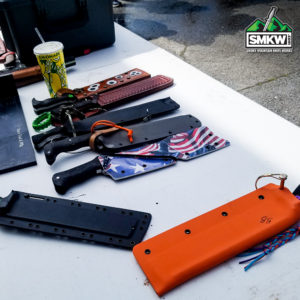 The Bladesports International Cutting Competition 2019 SMKW Spring Cut was held at Smoky Mountain Knife Works on Saturday, March 30. We were on hand to watch the excitement. Let's take a look at both the event and a few of the competitors.
There were about a dozen competitors, each wielding a beastly blade. They chopped through boards, posts, and balls. They sliced through aluminum cans, straws, as-thick-as-my-wrist rope, and the ever fun to watch water bottle slice. All this is designed to test the sharpness and durability of the knife, as well as the skill of the user. You might have the best knife…but are you also the best cutter?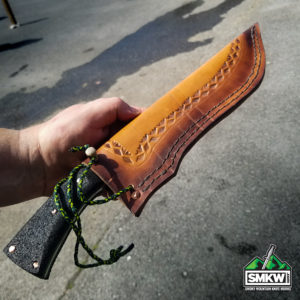 According to Bladesports, "The legendary Bill Moran, co-founder of the American Blade smith Society, may have been the originator of cutting competitions as we know them today. Mr. Moran kept a brush pile behind his shop where he would test his knives cutting tree limbs. He continued this practice even after his knives were selling for thousands of dollars. The way a knife cut was vitally important to him — an importance fundamental to the advancement criteria of American Blade smith Society, assuring that function always be inherent to the art of the forged blade. With the ABS requirements of cutting a 1″ free-hanging rope then chopping through 2X4's as part of the tests for Journeyman and Master Smith rating, two components of modern-day cutting competitions were in place."
Since that time, cutting competitions have grown into an international challenge open to everyone with the desire and skill to compete. You can find these competitions though out the country. With the creation of Forged in Fire: Knife or Death, you can even watch the fun from the comfort of your own sofa. However, there's no better way to support these cutting competitions and the growth of the knife community, than showing up at your next local event.
James Clifton, Roosterfish Fabrication
James Clifton, owner of and maker at Roosterfish Fabrication, won the men's division. Not only is he a BladeSports International Champion, he is a rising star as a custom knife maker. He is also licensed to use the Spyderco Trademark Round Hole on his knives. If you haven't seen his knives, you simply must. He primarily makes balisongs, fixed blades, and the occasional friction folder. He has some seriously interesting blade shapes with gorgeous lines and fantastic details. You can see his work on Instagram @roosterfish_fabrication and on Facebook at Roosterfish Knives.
Jonni Jo Carothers
Jonni Jo Carothers won the ladies division. Her display was a demonstration of pure technique in action and proof that you don't have to be a big burly dude to be a badass while chopping stuff up.
Jason Redick, Angry Giant Forge
Also giving a great show was Jason Redick, owner and maker at AngryGiantForge and of Forged in Fire fame. He made the 5160 steel drop point used in the competition just a couple of days before brutalizing it on his competition run. Although it looks more like a paring knife in his extra-large grip, its overall size and build is beefier than most any knife you'll find straight from the factory. After the run was over, we took a few pics of the edge and it is still basically pristine. There's barely a scratch on it and the edge is still practically perfect. You can find his work by clicking the link above or @angrygiantforge on Instagram and @ Angry Giant Forge on Facebook.
Overall, the BladeSports International 2019 Spring Cut was a fun event to watch. When they land in your area, you should absolutely make time to visit a BladeSports International event. There's always something happening at SMKW.com, so make sure you keep an eye out for the next event.

All images courtesy of Smoky Mountain Knife Works – smkw.com.