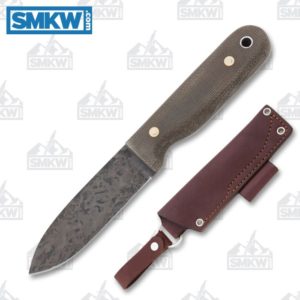 The L.T. Wright Bushcrafter HC is a lot of quality-built, full-size knife for a reasonable price. Handmade in the USA in small batches, this knife exhibits outstanding craftsmanship and attention to detail. It's tough enough to function perfectly as a bushcrafting or survival knife, and attractive enough to serve as a large daily carry. Additionally, it's big enough to fit any grip and small enough for most any task. It's just an all-around fantastic knife.
The overall look is very much like an oversized Kephart. Balance on this knife tends to lean more towards the handle, so it nicely fills your hand. The fit and finish is absolutely superb. All the joints and hardware aligns beautifully and is incredibly smooth to the touch.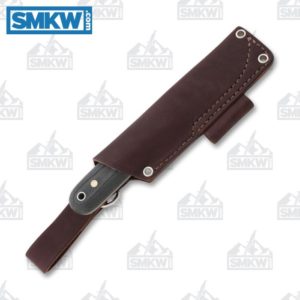 The Bushcrafter HC  features a 1075 4" drop point blade – a steel choice that is a less expensive and cuts down on costs. The toughness and durability of 1075 allows for a thinner blade, which also reduces the price of the knife without sacrificing usability.  It still has a ground 90-degree spine for use with a fire steel.
For an indication of the quality of the work, this knife is patinaed in a two-step process. They soak the blade in cider vinegar overnight. This forms the first patina layer. In the next step, L.T. Wright hand applies mustard to the blade. This gives it a characteristic blotchy appearance that looks great. Both steps increase the corrosion resistance of the notoriously rust-prone 1075.
In addition to fish eye bolts, L. T. Wright uses marine grade epoxy to secure the micarta handles to the full tang. Why does that matter? It helps reduce the likelihood of water getting into your knife and rusting inside.
Finally, this knife comes with a quality leather sheath with a dangler attachment made by JRE Industries. There's a ton of room for just about any belt size. It also has a loop in which you can stow your favorite fire steel.
L.T. Wright Bushcrafter HC Details
1075 HC, Patinated
4" Drop Point
Full Tang
Convex Grind
57-59 HRC
0.093" Blade Thickness
90-Degree Spine
Micarta Handles
Fisheye Hardware
Alloy Lanyard Hole
Leather Dangler Sheath
8.25" Overall
Made in the USA
The L.T. Wright Buchcrafter HC is a great way to get a high-end fixed blade that's perfect for almost any job. We think that given the amount of work that goes into these hand crafted, USA-made, small batch produced knives, $105 is a more than reasonable price. To get this knife, click any link in the article or simply click the button below.


All images courtesy of Smoky Mountain Knife Works – smkw.com.