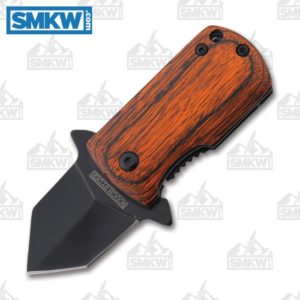 Sometimes knives come across our desk that are just fun. The new Rough Ryder Lil' Stumpy is one of the knives. Its overall look is kind of like they shrunk a big, beefy dagger into a wee little package. It's a quick assisted opener that doubles as a money clip, and  you can pick one up for about $7.
The Lil' Stumpy has a black coated 1.5" 440A dagger point blade. It's an assisted opener with a flipper. The opening is so fast and forceful that we sat around for more than a few minutes flipping it. It's razor-sharp straight out of the box and passed our trademark-pending Bag of Chips and Envelop Opening Test with flying colors.
Mounted on a stainless-steel frame, the wood handles have just enough texture to provide a bit of slip resistance while remaining smooth to the touch. It has a lanyard hole and a tip down pocket clip that doubles as a money clip.
Rough Ryder Lil' Stumpy Details
440A, Black Coated
1.5" Dagger
Assisted Opening
Frame Lock
Wood Handles
Stainless Steel Frame
Tip-Down Pocket/Money Clip
2.25" Closed
3.75" Overall
The Rough Ryder Lil' Stumpy is a fast, fun little knife you can get for about $7. If you're interested in this knife, click any link in the article or simply click the button below.


All images courtesy of Smoky Mountain Knife Works – smkw.com.