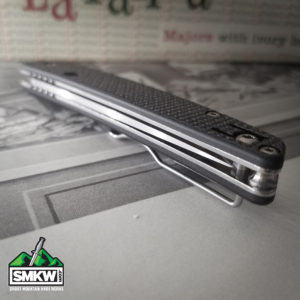 The new Spyderco Ikuchi is a brilliant design and a fabulous knife. Designed by Paul Alexander, this might be one of the most pocket-friendly flippers ever made. There's nothing that protrudes to snag on your pocket or anything else in your environment. Both the flipper and the blade are neatly encased in the handle. With its sleek, subtle curves and its lack of an oversized finger choil, the Ikuchi is a design departure from Alexander's previous Spyderco collaborations while maintaining all the excellence you've come to expect.
There are so many cool things going on with this knife, it's hard to know where to start. Is it the way the 3.25" S30V clip point blade is encased inside the handle?  It has a fit so perfect it almost feels like a traditional folder when you rub your thumb over it.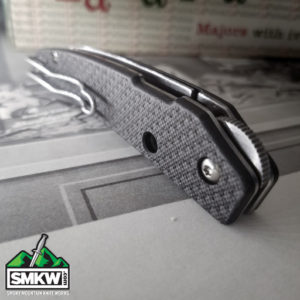 Mounted on stainless steel liners, the G-10/carbon fiber handle scales have just enough texture to provide a positive grip without being rough. All the edges are smooth and easy on the fingers because that same perfect finish in the blade to frame alignment continues throughout the entire knife.
Lest we forget to mention it, one of our favorite decorative elements on this knife is the Trademark Round Hole. It is, of course, on the blade. They've also machined Round Holes in the handles. They not only line up perfectly with the blade's Round Hole, it's just a really nice touch.
Let's talk about the opening, which is one of the lesser discussed aspects of this knife since the announcement. Simply put, it's awesome. It's essentially a round textured hidden flipper tab. Once you find the sweet spot – and it only takes a second, even if you're new to flippers – the opening is fast and super smooth.
Spyderco Ikuchi Details
CPM-S30V, Satin Finish
3.25" Clip Point
Compression Lock
G-10/Carbon Fiber Laminate Scales
Skeletonized Full Stainless-Steel Liners
Round Hidden Flipper
Phosphorous Bronze Washer Pivot
Ambidextrous Tip-Up Pocket Clip
4.375" Closed
7.625" Overall
The flawless fit and finish, great opening action, and pocket friendliness of the Spyderco Ikucki make it worth every penny of the $130 price tag. If you're interested in this knife, click any link in the article or simply click the button below.


All images courtesy of Smoky Mountain Knife Works – smkw.com.