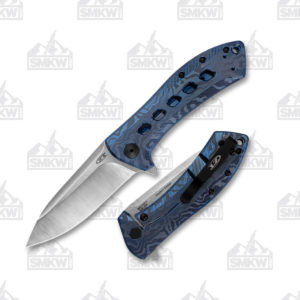 Tualatin, OR – Zero Tolerance releases new ZT 0801TIBLU Sprint Run. As Zero Tolerance tells us, "The Zero Tolerance Sprint Run 0801 has an entirely updated look. The original Todd Rexford design has been rebooted with blue anodized titanium handles and an M390 steel blade."
Yes, it's the Rexford 0801 you know and love, but this thing is gorgeous. The handles are blue anodized titanium with what looks almost like a contoured camo pattern. The hardware is solid, matte black which makes those handles pop even more.
And, if the handles weren't enough of an upgrade, ZT bumped up the steel to Bohler M390 on this bad boy. If you're not familiar with M390, you need to be. This steel holds a razor sharp edge for what seems like forever, and it sharpens up like you wouldn't believe.
ZT 0801TIBLU Sprint Run Details
3.5″ Bohler M390 Steel Drop Point Blade with Stonewashed Finish
Blue Anodized Titanium Handle
Framelock Locking Mechanism
Manual Flipper
KVT ball-bearing opening system
Reversible deep-carry clip (left/right, tip-up)
Lanyard hole
0.156″ Blade Thickness
4.7″ Closed
8.2″ Overall.
Weighs 5.6 oz.
Made in the USA.
If you're interested in the ZT 0801TIBLU Sprint Run, we suggest you act fast. As with most ZT Sprint Runs, they'll more than likely "sprint" off the shelves. You can click any link in this article or the button below to find it on the web.