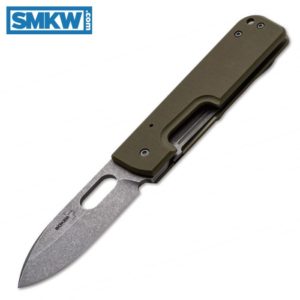 The Boker Plus Lancer is an ideal folding knife for when you're rocking that new suit on an evening out or need a lightweight knife that just disappears into your pocket until you need it. It's light on size and weight but heavy on looks and function.
The Lancer features a stonewash finish, 440C stainless steel blade, and a thin G-10 handle. It opens quickly and smoothly by using the oversized thumb hole, and locks open with a linerlock. It also has a tip-up, low profile pocket clip, and a lanyard hole.
It was designed by renowned knifemaker Serge Panchenko. He is best known for his Spyderco Dog Tag series of knives, and it shows in the design of the Lancer. The boxy shape and thin handle make this knife great for carrying with a pair of slacks or for occasions when a 6" tactical folder just seems like overkill.
Boker Plus Lancer Details
440C Stainless Steel, Stonewash Finish
3″ Drop Point
G-10 Handle
Linerlock
Thumb Hole Opener
Low Profile Pocket Clip
4" Closed
7" Overall
You probably won't be reaching for the Lancer the next time you're skinning game or making tinder, but, if you're looking for a knife that will not weigh you down but looks great every time you pull it out, check it out.


All images courtesy of Smoky Mountain Knife Works – smkw.com.