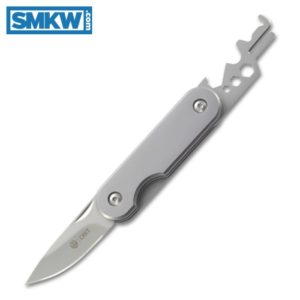 A brilliant pairing like that between CRKT and Ruger often means you get some brilliant toys to add to your kit. That is absolutely the case with the CRKT Ruger AR Tool. CRKT tells us this awesome and affordable tool was designed by Joe Wu You as "a compact, highly useful blade on a slip joint as well as a nine-in-one scraper tool. Built to quickly clean 12 critical surfaces of bolt components, it's equipped to restore an AR to working order at the range or in the field. The precision-cut tool is ideal for cleaning the bolt, firing pin, carrier, and cam pin so your favorite range companion never slows down."
You can easily keep your AR performing the way it should be with the CRKT Ruger AR Tool. It has been designed to give users the convenience of a folding knife and a gun tool in one easy to use compact package. We always say you can never have too many knives and this multi-tool comes a 1.93″ 8Cr14MoV drop point blade and a 2Cr13, bead blast finished handle. The tools on this knife are truly what sets it apart. It includes a scraper tool for quickly cleaning twelve critical surfaces of bolt components as well as several commonly used hex wrenches. There is even a bottle opener that definitely comes in handy after a long day on the range.
It all folds up into a closed length of right at 3". That makes the AR Tool easy to throw in your range bag or pocket for whenever you need it. For shotgun owners, there is the CRKT Ruger Shotgun Tool also designed by Joe Wu with its own specific tools.
CRKT Ruger AR Tool Details
8Cr14MoV Stainless Steel, Bead Blast Finish
1.93" Drop Point
2Cr13 Stainless Steel Handle
AR Cleaning Tools
1/8″, 3/16″, 1/4″, 5/16″ Hex Wrenches
Bottle Opener
3.08" Closed
6.75" Overall
The CRKT Ruger AR Tool can be one of the most valuable tools at your disposal when it comes to keeping your AR in working order. Whether it's at the range, in the field, or on the workbench, this tool is definitely useful. Best of all, you can get one for about $20. To get this knife, click any link in the article or the simply click button below.


All images courtesy of Smoky Mountain Knife Works – smkw.com.