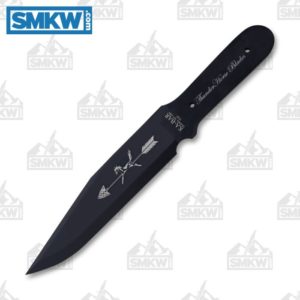 The KA-BAR ThunderHorse Thrower is the first throwing knife in KA-BAR's catalogue. It's a big, beefy competition grade throwing knife designed by International Knife Throwers Hall of Fame Inductee, Karen Jones – owner and operator of ThunderHorse Blades. It's also an American-made thrower that's almost entirely customizable, and you can get one for about $53.
The ThunderHorse Thrower has a black coated 10.25" 1095 Cro Van clip point with 57-58 HRC. That's nice because it gives more than enough strength to the blade, without becoming too brittle. It weighs about 1.25 lbs and has an overall length of 15.625". All that means this knife has not only some heft to it. It also has a great forward balance which is great for its purpose.
This amazing knife is also infinitely customizable. The handles have two pre-drilled rivet holes which allows for a tremendous amount of customization. You can literally use almost any handle material you want, or you could leave it unhandled. The choice is yours.
Finally, the blade of this knife is unsharpened. If you wanted to use this knife as a regular knife, or if you wanted to sharpen the edge, you can absolutely do so.
KA-BAR ThunderHorse Thrower Details
1095 Cro Van, Black Coated
10.25" Clip Point
2.0625" Blade Width
Branded Blade and Tang Etch
57-59 HRC
Unsharpened Edge
One Piece Construction
Rivet Holes in Handle
1.25 Lbs
15.625" Overall Length
Made in the USA
If you're looking for an American-made competition throwing knife (or even a really large, infinitely customizable knife) that won't break the bank, the KA-BAR ThunderHorse Thrower is an excellent choice. If you're interested in this knife, click any link in the article or simply click the button below.


All images courtesy of Smoky Mountain Knife Works – smkw.com.