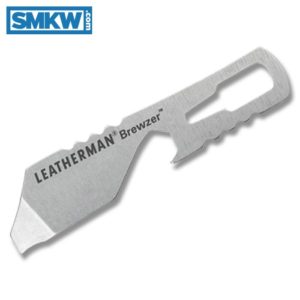 If you'd like to test the waters of small, pocket-friendly EDC tools, check out the Leatherman Brewzer. At just around 2.5" overall, this little fella comes in handy for more than you would think. You can snag one for about five bucks and see for yourself how useful it can be.
It's designed almost like your average keychain bottle opener, but also has a mini pry bar with a slightly curved tip. This lets you easily open paint cans or packages, pry things apart, and of course, crack a cold one with one small, simple tool.
The stainless steel Brewzer probably won't bend or warp, even with lots of heavy use. It is also TSA-compliant, so feel free to travel away with it.
It weighs about a half of an ounce, making the Brewzer right at home on a set of keys. You can also simply tie a paracord fob through the beer bottle shaped cutout and simply toss it in your pocket or bag.
Leatherman Brewzer Details
One-Piece, Stainless-Steel Construction
Bottle Opener, Mini Pry Bar
2.45″ Overall
Made in USA
Some pocket tools on the market may have more features, but the Leatherman Brewzer is a great place to start for finding out if these little tools are a good fit for your EDC. Click any link in the article or the button below to check one out.


All images courtesy of Smoky Mountain Knife Works – smkw.com.