Originally designed for Scandinavian construction workers, the Mora Basic 511 is a knife that is also suited for the field or everyday carry. Your search for a dependable fixed blade will be a short one because these are priced just around ten bucks.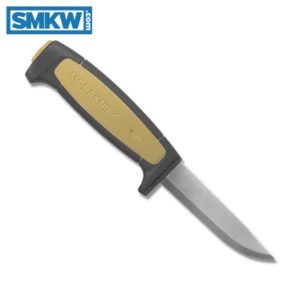 The Basic 511 is a true utility knife that features a Scandi ground, carbon steel blade and a non-slip ABS handle. The clip point blade features excellent edge retention, and the handle is shaped so that you can have a great grip any time, even when wearing gloves. A large finger guard keeps your fingers away from danger when choking up for tough cuts.
Blade sharpness and durability take priority over anything else here, so you'll see that the rough spine on the Basic 511 is not exactly suited for use with firestarters like some others in the Mora line. That is not exactly a problem, because, at this price, you've got a fixed blade knife that is ideal for hunting and fishing, bushcrafting, campfire cooking, or just breaking down a stack of cardboard boxes.
The Basic 511 includes a durable plastic sheath that can clip easily onto a belt or pack. That ensures your knife is close at hand, and the carbon steel blade is protected from the elements.
Mora Basic 511 Details
Carbon Steel, Satin Finish
3.6″ Clip Point
1/16″ Blade Thickness
ABS Handle
Plastic Sheath
8.25" Overall
Made in Sweden
With a variety of colors available, one thing that remains the same is that each Mora Basic 511 is durable and affordable. It is basically awesome. Check one out by clicking any link in the article or below.


All images courtesy of Smoky Mountain Knife Works – smkw.com