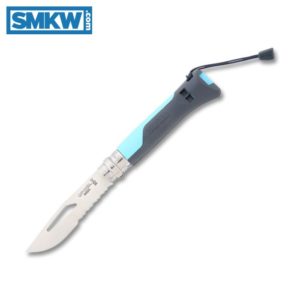 Hikers, campers, and survivalists will want to check out the Opinel No 8 Outdoor. Among the many new additions to this historic brand, they've added a partially serrated edge for versatility, and a shackle key that makes one-handed opening easier. Oh, and it has a whistle! We were absolutely not demonstrating the whistle while chortling mightily until the nice HR lady screamed at us. Since we didn't absolutely did not field test the whistle in the hallways like a small army of demented knife writers, we can only assume the whistle is both effective and fun to toot. Let's take a look at all the other exciting new features on the No. 8 Outdoor.
We've all seen the traditional No. 8. However, the No 8 Outdoor is designed with space-age materials not traditionally associated with Opinel pocket knives, so it's something new. The No 8 is known for being a versatile size in the Opinel lineup, and that's what makes it even more suited as an outdoor knife. Not too big, not too small. Adding some resistance to the elements, the traditional wood handle has been swapped to a durable fiberglass-reinforced polymer. Did we mention it has a whistle? An extra feature on this rugged knife is a built-in 110dB emergency whistle that comes in handy in those (hopefully rare) survival situations.
The 12C27 stainless steel blade now has a thick serrated area that's perfect for rope cutting and a large cutout for easy opening. It is inspired by traditional Turkish sabers and is ground to a convex profile that strengthens the blade and makes it easier to sharpen. Like many other Opinels, the No8 Outdoor uses the Virobloc to lock to the blade in the open or closed position.
Opinel No8 Outdoor Details
12C27 Stainless Steel, Satin Finish
3.75" Clip Point Blade
Polymer Handle
Virobloc Lock
2.2 oz.
7.75" Overall
Made in France
Opinel pocket knives are known around the world for their traditional designs and their usefulness as a daily-carry. The Opinel No8 Outdoor continues the legacy but ups the ante for outdoors use. You can get yours for around $40. Find out more by clicking any link in the article or the button below.


All images courtesy of Smoky Mountain Knife Works – smkw.com.