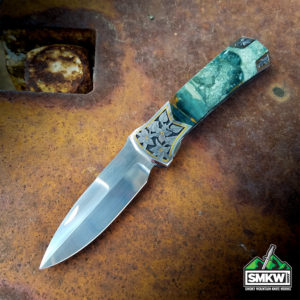 The Scott Sawby Kingfisher might be the nicest knife we've ever handled. It's a beautiful knife that exhibits flawlessly exquisite craftsmanship. The opening is so smooth and easy, it garners oohs and ahhs of near-reverence from almost every Old Knife person that touches it. With stone handle scales and 24 karat gold inlays, it's not just another knife, it's truly a work of art.
Now semi-retired, Scott Sawby makes some of the most beautiful folders on the market. This Kingfisher model is a vintage piece with Morrisonite Jasper handles. The 24k gold inlaid trillium bolsters and accents were engraved by Mr. Sawby's late wife, Marian Sawby. The fit and finish is quite literally perfect. The tang is engraved with a script "S Sawby". The top of the bolster is engraved with a script, "M S"
The 2.75" ATS 34 drop point is mirror polished with a perfectly ground swedge. The blade is perfectly seated. As a matter of fact, "perfect" is the most accurate description of this knife from the tip to the end. It smoothly and easily opens with a nail nick.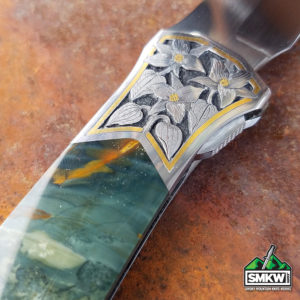 It locks in place with the Self-Lock mechanism. To unlock the knife, just push up on the base of the tang, and it slides closed. Mr. Sawby explains it like this, "The self-lock at first appears similar to a liner lock but it is completely different. It gets its name from the fact that the blade locks itself in position; it is the only moving part besides a spring and ball bearing détente. The release is… under the front bolster. When the checkered surface of the release is depressed the base of the blade shifts upward and unlocks. In the locked position pressure on the cutting edge will not unlock it, but in fact locks it more securely with a binding action. The lock mechanism is contained within the base of the blade and recessed into the front bolsters."
This mechanism might sound familiar. Designed by Scott Sawby, the Buck 531 Bucklock-1 incorporated his Self-Lock (also called the Sawby Lock) mechanism and was the very first Buck Collector's Club knife.
Scott Sawby Kingfisher Details
ATS 34, Mirror Polish
2.75" Drop Point
Morrisonite Jasper Handles
24k Inlaid Trillium Flower Engraving
Sawby Lock
3.625" Closed
6.375" Overall
Made in the USA
The Scott Sawby Kingfisher is an amazing knife that's becoming increasingly difficult to find. This investment piece makes a perfect addition to any high-end knife collection. To get this knife, click any link in the article or simply click the button below.


All images courtesy of Smoky Mountain Knife Works – smkw.com.