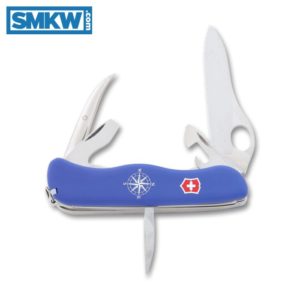 If you have a boat, or if you go out on the ocean, you need the  Victorinox Skipper Pro. As far as we can see, the only thing it can't do around the water is float. They compensate for that by providing a slim and trim multi-tool with 12 functions. Vicorinox tells us it "provides the capabilities of a full ship's crew in the palm of your hand" and that it has, "…everything you need to tackle knotty problems and stubborn shackles."   We agree that this is truly a perfect knife for sailing, fishing, and really any nautical adventure.
The Skipper Pro has a bright blue handle that houses all the tools any seafaring user might need. The centerpiece is a 3.37″ Wharncliffe partially serrated blade. It smoothly and easily opens one-handed with the thumb hole opener. It locks in place with a liner lock. It also has a large marlin spike which is perfect for unsnarling tangled lines. It also has a screw driver, a wire stripper, a can opener, and a reamer.
Finally, Victorinox tells us this model includes a bright orange lanyard. The lanyard increases visibility and makes sure this knife is always where you need it. Especially once it's time to pop the top off a cold one with the requisite bottle opener.
Victorinox Skipper Pro Details
Polyamide Handle
3.37" Wharncliffe Blade
Bottle Opener
Screwdriver
Wire Stripper
Can Opener
Reamer
Marlin Spike
Tweezers
Toothpick
6.9oz
4.37" Closed
Made in Switzerland
Whether you're fishing out on the lake or sailing the open seas, the Victorinox Skipper Pro makes it easy to loosen up tangled knots, cut rope, open food, and more.  Get one for yourself by clicking any link in the article or by simply clicking the button below.


All images courtesy of Smoky Mountain Knife Works – smkw.com.