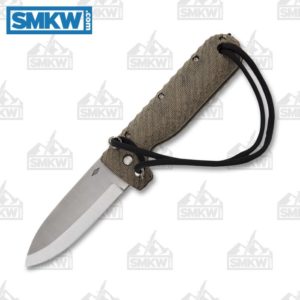 We know what you're thinking. Folding knives just aren't ideal for bushcraft. Battle Horse Knives begs to differ. The Battle Horse Knives Tree Frog is a folding bushcraft knife made to be used and maybe even abused. This beast of a folder just might be the ideal back-up bushcrafting knife.
Look, we get it. There's no denying that a fixed blade is ideal for buschrafting. There's also no denying that a fixed blade will always take up more space and add more weight to your gear than a folder. The Tree Frog gets you as close to the world of bushcrafting fixed blades that you can get, but it still folds.
The Tree Frog's blade securely locks in either the closed or open position with the double pin locking system. This effectively turns it into a fixed blade knife that just happens to fold. Simply slide the pins all the way through the holes in the handles. There is literally no way for the lock to fail, unless you break both pins. And don't worry about keeping up with the pins. They're attached to the paracord lanyard, so you never need to worry about losing them.
The Tree Frog features a 3.5″ O1 tool steel drop point with a Scandi grind. With a blade thickness of 0.15″ and a 90-degree spine, it can take a beating, and it's perfect for making tender and striking ferro rods.
The comfortable 0.89″ solid micarta handles are highly textured and provide excellent slip resistance. We're not going to lie, this knife has a good bit of heft in hand, but the contouring is incredibly comfortable. It feels like it could easily handle its fair share of abuse. It weighs just under 6oz.
Battle Horse Knives Tree Frog Details
O1 Tool Steel, Satin Finish
3.5" Drop Point Blade
0.15″ Blade Thickness
Scandi Grind
Manual Folder
Double Pin Locking System
Solid Micarta Handles
Paracord Lanyard
5.92oz.
5" Closed
8.5" Overall
Made in the USA
The Battle Horse Knives Tree Frog makes a great addition to your bushcrafting gear. If you're interested in this knife, click any link in the article or simply click the button below.


All images courtesy of Smoky Mountain Knife Works – smkw.com.