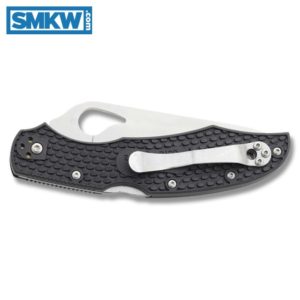 Sometimes all you need is a functional, affordable knife that you're not afraid to use. You know, the ones that you're not afraid to scratch up a bit. A knife that is dependable and can slice up pretty much anything you want it to. Let's look at three budget lockback knives that are perfect for getting down and dirty. Best of all, you can get any one of them for less than $30.
If you aren't up for dropping the dough on a Spyderco Endura, the Byrd Cara Cara 2 from Spyderco costs around 50 bucks less and is an awesome alternative. The Byrd brand is known for making great affordable knives similar in form and function to a lot of the more higher-end Spydercos. For the price, you're not going to get an S30V or VG-10 steel, but you do get a satin finish 8Cr13MoV stainless steel blade with a Comet Hole opener for one-handed use. The FRN handle provides an exceptional grip and a reversible tip-up, left-right carry pocket clip makes it totally ambidextrous. The 8Cr13 steel is easy to resharpen and the serrations are perfect for shredding through cardboard, rope, or just about anything else in a breeze. Finally, the Cara Cara is available in a variety of colors and styles.
Byrd Cara Cara 2 Details
8Cr13MoV Stainless Steel, Satin Finish
3.75″ Drop Point Blade
Comet Hole Opener
Lockback
Fiberglass Reinforced Nylon Handle
Reversible Tip-up/Down Pocket Clip
Lanyard Hole
4.75″ Closed
8.5″ Overall

The KA-BAR Mule is a great addition to this list. It's like a KA-BAR fixed blade in folding knife form. Sturdy and built for tough tasks, it features a 5Cr15 stainless steel clip point blade opened by ambidextrous thumb studs. The G-10 handle scales are grippy and contoured for an excellent grip. It also has an reversible tip-up pocket clip makes it easy to carry. Gunmetal gray stainless bolsters add to the look of this hunky knife.
KA-BAR Mule Details
5Cr15 Stainless Steel, Gray Coating
3.938″ Clip Point Blade
Ambidextrous Thumb Studs
Lockback
G-10 Handle
Reversible Tip-up Pocket Clip
Lanyard Hole
5.25″ Closed
9.25″ Overall

The SOG Mini Salute goes to show that an awesome design can still be affordable. This compact folder features a bead blasted 8Cr13MoV stainless steel blade that opens with a thumb stud. The handle scales are machined G-10 with scalloped steel liners. It has a removable pocket clip. The thumb stud is adjustable so this knife will work great for larger or smaller hands so you can make this knife perfectly fit you.
SOG Mini Salute Details
8Cr13MoV Stainless Steel, Bead Blast Finish
3.1″ Clip Point Blade
Thumb Stud Opener
Lockback
G-10 Handle
Removable Tip-up Pocket Clip
4″ Closed
7.1″ Overall

All of these budget lockback knives listed are under 9.5″ overall, so they're just as useful in the pocket as well as the toolbox. No nonsense here, just a few truly useful folders for anyone on a budget. Get one for yourself by clicking any link in the article so simply clicking the button below.


All images courtesy of Smoky Mountain Knife Works – smkw.com.